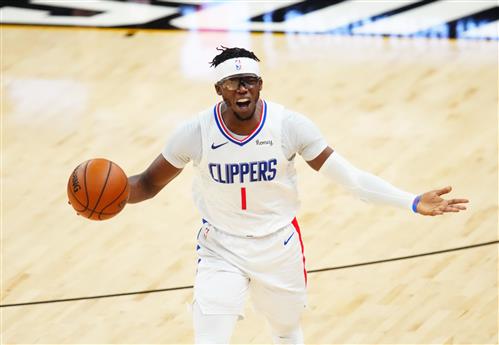 This offseason is going to be extremely interesting for the Los Angeles Clippers not just because of the potential free agency of Kawhi Leonard, as he has a $36M player option for the 2021-22 season, but because of the pending NBA free agency of Reggie Jackson.
After being bought out of his contract with the Detroit Pistons last season, Jackson signed with the Clippers on a minimum, rest-of-the-year contract and finished the 2019-20 season playing 17 games with Los Angeles. He came on at the end of the year in the postseason and played well, which resulted in Jackson and the Clippers agreeing on a one-year minimum deal ahead of the 2020-21 season.
During the regular season, Reggie Jackson stepped up into a much bigger role than imagined with the Clippers dealing with injuries and from the second-half of the season on, he became a key talent for them in the starting rotation.
He had plenty of big performances that helped earn the Clippers the 4-seed in the Western Conference during the regular season, but he really kicked things into another gear when the playoffs started. In 19 playoff games this year, Reggie Jackson averaged 17.8 points, 3.2 rebounds, 3.4 assists and shot 40.8% from three-point range.
Against the Dallas Mavericks, Utah Jazz and Phoenix Suns, Jackson took advantage of his opportunity and became the Clippers' second-best scoring option next to Paul George when Kawhi Leonard went down with a knee injury. He strung together nine 20+ point performances this postseason, which is why Reggie Jackson has revitalized his career.
The 31-year-old guard has earned himself a lot of money this offseason and could see a ton of attention from teams league-wide in free agency. With that said, let's take a look at four teams to watch in NBA rumors who could look to pursue Reggie Jackson in free agency this summer.
Chicago Bulls
With Nikola Vucevic and Zach LaVine, the Chicago Bulls are a team that is going to be looking to make a real playoff push during the 2021-22 season. Unfortunately for them, they will begin their season without Coby White, who was expected to take on a much bigger role next season.
White underwent successful surgery on his left shoulder to repair a torn labrum and he is expected to miss the start of the 2021-22 season. The timeline put in place by the Bulls for White is 4 months on the front-end and 6 months on the back-end of his recovery time.
The Bulls were going to be looking for a point guard this offseason anyways, but now with Coby White out indefinitely, they desperately need to add more backcourt help. They are rumored to be interested in guys like Lonzo Ball, Spencer Dinwiddie and Kyle Lowry, but going after Reggie Jackson could make more sense for them if he comes at a lower price.
Recency bias could push Jackson's price tag higher than it should be and he could want long-term security after playing so well, but talent-wise, he is definitely a guard the Bulls should express interest in. Regardless, the Bulls' pursuit of a point guard will be something to watch in NBA rumors.
Jackson is versatile in terms of playing on or off-the-ball and displayed his athleticism to blast past opponents to the rim, which is exactly the kind of guard the Bulls need next to Zach LaVine. This is a Bulls team that is going to look to push in transition and play through their two star players, which is a situation Reggie Jackson is used to playing in next to Paul George and Kawhi Leonard.
With about $12.7M in cap space entering the offseason, the Bulls do not have a ton of flexibility in terms of who they can go after in free agency, but Jackson does fit that $10-12M range that they will be looking to fill.
Toronto Raptors
A lot of what the Toronto Raptors have planned this offseason obviously depends on if they keep Kyle Lowry long-term, but if they decide to let him go, then they will need to add another backcourt talent.
With the No. 4 pick in the 2021 NBA Draft and a young guard in Malachi Flynn, the Raptors definitely have the opportunity to build a young backcourt, but if Masai Ujiri wants to keep this team a championship contender, bringing in Reggie Jackson would be a smart move.