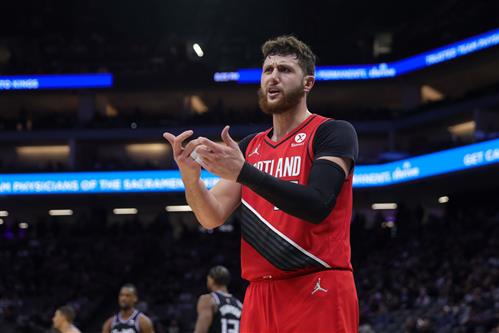 With the Portland Trail Blazers looking to shake things up and make some roster altering moves this season, one name that's come up in recent trade rumors is Blazers center Jusuf Nurkic. As a sneaky good center in the NBA, Nurkic has definitely made his mark as a well-rounded big that would bolster any frontcourt in need of a dominant low-post presence.
Now that he's been made available for trade by the Blazers, there'll be plenty of center needy squads that'll be inquiring about his services. So with all this in the fold for Portland, let us now discuss the four teams that desperately need to trade for Nurkic in an effort to add quality frontcourt size and depth.
Los Angeles Clippers
As an elite 3-point shooting team that's been one of the best defensive units in the NBA for the past few seasons, their biggest weakness has been their noticeable lack of size. Even though Ivica Zubac has been solid for them and given them a ton of production in the paint, they still have lacked length and a dominant force down low.
In Jusuf Nurkic, they'd have a well-rounded center that could elevate their play on both ends of the floor and open up more scoring opportunities for Paul George, Terrence Mann, Reggie Jackson, Marcus Morris, and Luke Kennard. Nurkic's strength, size, and aggression would be a perfect fit on the Clippers and give them an even deeper roster while they await the highly anticipated return of Kawhi Leonard.