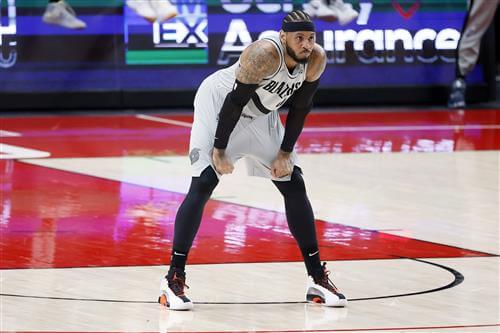 Carmelo Anthony has long been revered as a fan favorite, regardless of where he's played. The 37-year-old forward is set to hit free agency this NBA offseason after spending the past two seasons with the Portland Trail Blazers.
With Portland entering a new era with Chauncey Billups as their head coach, and the uncertainty surrounding the futures of Damian Lillard and CJ McCollum, it remains unclear if Anthony will decide to stay.
With Anthony still searching for that elusive title to shore up his resume as a future Hall of Famer, there are teams that make more sense than others.
Given Anthony's desire to compete for a championship, the expectations should be for him to join forces with a team that is trending upward or that has the pieces to make a run to the NBA Finals.
The resurgence that Anthony has experienced during his time with the Trail Blazers should result in no shortage of interest suitors for his services.
By taking a look at teams that would be a fit for the 10-time All-Star, here are four potential free-agent destinations for Carmelo Anthony.
Dallas Mavericks
The Dallas Mavericks are in for an interesting offseason after Rick Carlisle decided to leave the franchise.
Jason Kidd has since replaced Carlisle, putting the Mavericks on the clock to surround wunderkind Luka Doncic with more talent. Kristaps Porzingis is expected to be traded this offseason and the Mavericks need to make a decision on the impending free agency of Tim Hardaway Jr.
While Carmelo Anthony wouldn't be a starter for the Mavericks, he could provide them with some much-needed scoring off of the bench.
Anthony is a streak scorer, even at 37 years old, who can provide a spark in the Mavericks' second unit, which could ease some of the pressure off of Doncic offensively.
There could also be lineups where the Mavericks insert him as a starter when they need five guys who can shoot the ball as he's converted 39.9 percent of his threes in the past two seasons.