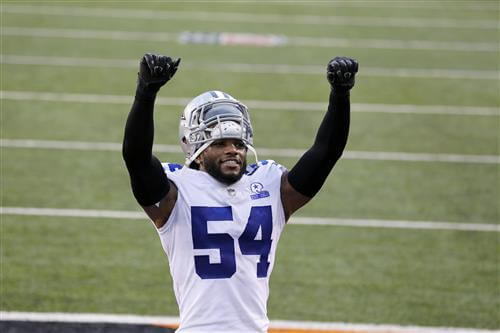 NFL blockbuster trades are becoming more of a common theme in recent years. That was taken to a whole new level on Sunday when the Atlanta Falcons dealt Julio Jones to the Tennessee Titans. It's a move that could shake up the AFC title race.
However, there's other trades that could take place around the NFL world between now and Week 1 of the 2021 season.
Read More - Packers Urged to Move Jordan Love in Blockbuster Trade
A certain Pro Bowl linebacker in Texas might be on the move. Meanwhile, reigning NFL MVP Aaron Rodgers wants out of dodge. Below, we look at four blockbuster moves that could still happen over the next couple months.
Dallas Cowboys trade Jaylon Smith to the Los Angeles Chargers
Dallas' decision to select linebackers Micah Parsons and Jabril Cox in the 2021 NFL Draft was a clear message to the team's current linebacker group. That includes both Smith and the injury-plagued Leighton Vander Esch. Recent reports suggest that Vander Esch is not in the offering, but the Cowboys are fielding calls for Smith.
If that is indeed the case, new Chargers head coach Brandon Staley should pounce. Los Angeles has a need at middle linebacker next two 2020 first-round pick Kenneth Murray. He's a perfect fit in the defensive-minded head coach's aggressive scheme. And it likely wouldn't cost more than a third-round pick to pry the former Pro Bowler away from Big D.