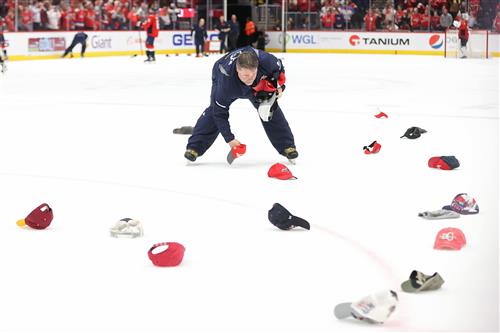 The NHL appears to be making progress in determining the parameters of its eventual return, as Sportsnet's Elliotte Friedman reported Wednesday that the league and the players' union are working toward a 24-team playoff format based on points percentage within conference standings.
Details are limited, and the proposal still needs team and player approval before the league can move forward. We do know that under this structure, the top four seeds in each conference would get byes, while teams seeded fifth through 12th would be placed in conference brackets and clash in best-of-five, play-in series.
The winners of theses play-in series would each advance to face a corresponding top-four seed in a best-of-seven clash. For example, the winner of the clash between No. 5 and No. 12 would play the No. 4 seed, while the winner of No. 8 versus No. 9 would play the team atop the conference standings.
It's different, but it's playoff hockey. After months of uncertainty, we'll surely take what we can get. With a faint light beginning to appear at the end of the tunnel, let's explore which of the potential play-in series would be the most intriguing.
Penguins (5) vs. Canadiens (12)
This is a major mismatch based on season stats, as the Canadiens have the fewest points of any team that would qualify under the expanded format. They do, however, possess the ultimate X-factor: goaltender Carey Price. He's far removed his 2015 MVP form, but the 32-year-old is still capable of winning games by himself. He also owns a combined .922 save percentage over his last three playoff appearances. Could he get hot enough to win three of five games? We're certainly not ruling it out.
The Penguins, meanwhile, are always one of the last teams anyone wants to meet in the playoffs. They're dangerous at even strength, and their lack of power-play success so far this season is not indicative of the top unit's talent. Sidney Crosby and Evgeni Malkin are as potent as ever, and Pittsburgh, after being ravaged by injuries all season, should finally be able to ice a healthy roster following a lengthy layoff. That's a scary thought for the rest of East's playoff teams.