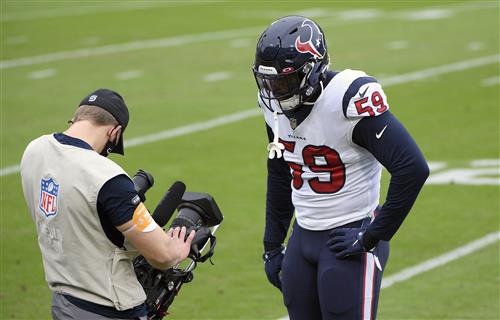 The downtrodden Houston Texans have now opted to move off their most-tenured player in that of Whitney Mercilus as the team continues its youth movement.
A first-round pick of the Texans back in 2012, Mercilus has been a steady force on their defensive line. The pass rusher recorded a career-high 12 sacks back in 2015 and has been a consistent player out on the edge. Thus far this season, he's recorded three sacks in limited action over the course of six games.
Houston's decision to release Mercilus comes in lieu of finding a trade partner to take on the remainder of his $4.5 million base salary for the 2021 season. Now that he's set to hit free agency, there's a number of teams who would be interesting in bringing him in. Here, we look at four ideal destinations.
Kansas City Chiefs sign Whitney Mercilus
Through the first six games of this season, the two-time defending AFC champions have registered an NFL-low seven sacks. Having a relatively unknown in Michael Danna leading the team in sacks is not going to cut it. This has also played a role in Kansas City yielding a league-high 1,725 passing yards to go with a 102.2 opposing quarterback rating.
As we've seen a ton in the recent past, general manager Brett Veach is always active on both the trade front and free agent market. Bringing in a veteran who has recorded 57 career sacks would make sense.
Whitney Mercilus lands with the Seattle Seahawks
We're not yet sure of the extent of the injury sophomore pass rusher Darrell Taylor suffered this past Sunday night. What we do know is that it was a scary upper-body injury and will likely force him out of action for a while.