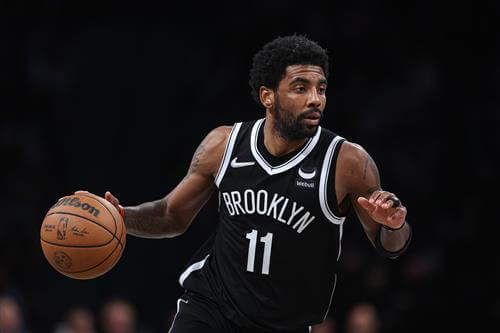 There's now a decent chance that the Brooklyn Nets will have to pull off a Kyrie Irving trade this summer.
Following the Nets' ugly first-round sweep at the hands of the Boston Celtics, there's a ton of drama brewing in Brooklyn. That includes general manager Sean Marks calling Irving out after all of the COVID-related drama during the 2021-22 campaign.
It remains to be seen if Irving will pick up his $36.5 million option for the 2022-23 season. Either way, we woudn't be surprised if either he requested a trade or the Nets opted to move him.
Below, we look at four ideal Kyrie Irving trade scenarios should he be put on the block during the summer.
Kyrie Irving trade to the Dallas Mavericks
Mavericks get: Kyrie Irving
Nets get: Jalen Brunson (sign-and-trade), Reggie Bullock, 1st round pick
The Mavericks are still vying for a championship this season and boast a stud young point guard in Jalen Brunson who has stepped up big time heading into free agency. While it's being reported that the Mavs would love to retain Brunson in free agency, we wouldn't put it past owner Marck Cuban from pulling off that eye-opening trade.
From an on-court perspective, teaming Irving up with Luka Doncic would give Dallas one of the best tandems in the entire NBA. The two would complement one another a great deal with what they do on offense.
As for the Nets, they add a still-young 25-year-old Brunson who stepped into a No. 2 role behind Doncic this past regular season. He averaged 16.3 points, 3.9 rebounds and 4.8 assists on 50% shooting. Even if Ben Simmons does return, Brunson would be a great addition to go with Durant.
Reggie Bullock also provides Brooklyn with a bench option in the frontcourt while the Nets acquire another first-round pick to go with the two they got from the Philadelphia 76ers in the Harden-Simmons blockbuster.
Kyrie Irving trade to the Los Angeles Clippers
Clippers get: Kyrie Irving
Nets get: Norman Powell, Marcus Morris, Terance Mann, multiple 2nd-round picks
Los Angeles' decision to deal expiring contracts for Norman Powell at the NBA trade deadline gives the team more flexibility to find another star to go with Paul George and Kawhi Leonard. Following an injury-plagued 2021-22 season, that very well could be what general manager Lawrence Frank opts to do.
Having a point guard of Irving's ilk would make Los Angeles a legit NBA title contender, forming the next "super team." The Clippers have struggled at point guard since Chris Paul exited following the 2016-17 season. This is a major need. Teaming Irving up with his former Cavaliers head coach, Tyronn Lue, would also be ideal.