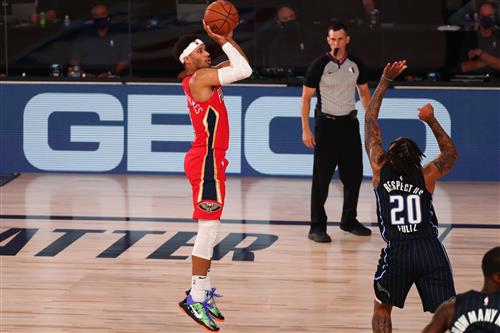 New Orleans Pelicans swingman Josh Hart will enter the open market this summer, but even as a restricted free agent, he's reportedly determined to play elsewhere.
Cleveland.com's Chris Fedor reported that Hart "would like a fresh start." Making matters more complicated for New Orleans is the fact that any team who offers Hart a lucrative offer sheet can't then become a sign-and-trade partner.
Read More - Los Angeles Lakers Can Land Russell Westbrook For 3 Players And 2 Draft Picks
The Pels have the cap space available to retain Hart, yet they're also going to need to pay a lot for restricted free agent Lonzo Ball if they want to keep him. With that as the backdrop, it's worth exploring several potential landing spots that'd suit Hart the best.
Josh Hart to New York Knicks
Look at it this way: Julius Randle went from the Los Angeles Lakers to New Orleans, and then seemed to kick his game into another gear with the New York Knicks this past season, earning the distinction as the NBA's Most Improved Player.
Hart shared time with Randle in LA, and was a year behind him arriving with the Pelicans. Based on how much the versatile big man thrived under Tom Thibodeau in the Big Apple, how could Hart resist a Randle-driven recruiting pitch?
The Knicks need players like Hart on the wing for depth purposes, as Thibodeau loves to play his most important players for big minutes, regardless of how his rotation is set up. Hart is a stout defender, a capable 3-point shooter and someone who offers lineup versatility.
Despite being listed at 6-foot-5, Hart averaged eight rebounds per contest this season, and 6.5 the year before, so that's no fluke. That's the type of high-effort, potential-maximizing mentality Thibodeau covets. It'd be awesome to see Hart in a Knicks jersey.
Josh Hart to Toronto Raptors
At the NBA trade deadline, the Toronto Raptors shipped away a dynamic wing scorer in Norman Powell, and could use someone with Hart's skill set to help fill that void — even if they retain Gary Trent Jr., who they got in the Powell deal.
Trent is more of the instant offense type, whereas Hart better fits into the identity Raptors coach Nick Nurse promotes, which is namely fundamentally-sound basketball, built around strong defense.
Especially with forward Pascal Siakam likely to miss the start of the 2021-22 campaign, Toronto is going to need serious help crashing the boards and creating offense. Those are areas Hart can help.