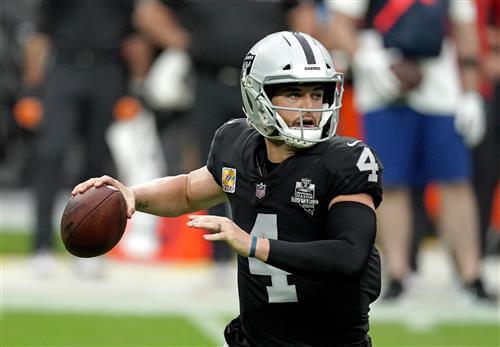 Las Vegas Raiders quarterback Derek Carr recently hinted that he'd retire if he got traded, but maybe he'd be better served on a different team. Let's look at some ideal trade scenarios for the three-time Pro Bowler.
Derek Carr to Green Bay Packers
Packers get: Derek Carr, two first-round picks
Raiders get: Aaron Rodgers
You can bet that Raiders coach Jon Gruden would jump at the chance to acquire Aaron Rodgers no matter what the cost was. A couple first-round picks and an established QB in Carr seems like more than enough to pique the Green Bay Packers' interest.
The assumption is that if Rodgers is out of Titletown, Jordan Love will step in to take over. While nice in theory, Love didn't get nary any reps as a rookie in practice as the third-stringer, much less in a live, actual game.
Rodgers' holdout has helped Love gain some much-needed experience, but let's be real: Love is supposed to be the long-term successor to Rodgers and Brett Favre before him. Talk about a couple tough acts to follow.
Even though the Packers' roster has obvious shortcomings, they're very much in Super Bowl-or-bust mode. You think Love is equipped to handle that?
At least with Carr, there's been high-level production over the past two seasons and a sense that he could step into Green Bay and hold his own. Meanwhile, the Raiders franchise would get the spark they've desperately sought with Rodgers coming to Las Vegas.
Derek Carr to Carolina Panthers
Panthers get: Derek Carr
Raiders get: DE Brian Burns, 2022 fifth-round pick
There was buzz around the 2021 NFL Draft that the Carolina Panthers might select a first-round quarterback despite already trading for Sam Darnold. That goes to show how serious this team is about getting a viable signal-caller.