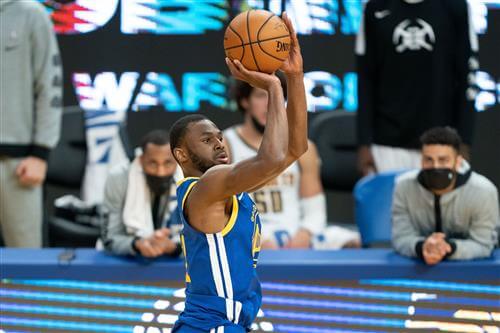 In the season-plus he has been a member of the Golden State Warriors, Andrew Wiggins has turned that bust narrative around in a big way.
While there's still some overall issues with Wiggins' game (shot selection being one), he's morphed into a consistent scorer, solid three-point shooter and elite-level wing. Last season alone, Wiggins averaged 18.6 points and 4.9 rebounds on 48% shooting from the field.
This has led to Golden State pushing back against moving Wiggins in a trade for Ben Simmons and other bigger-name individuals. That might no longer be the case given recent reports that Wiggins refuses to get the COVID-19 vaccine.
This is a personal choice, and we hate to bring it up in the context of basketball. With that said, Wiggins' stance threatens Golden State's success in 2021-22 due to a local mandate in San Francisco that requires proof of vaccine for large indoor events.
"The Warriors recently connected Wiggins with an Oakland doctor who understands issues surrounding vaccine hesitancy, sources said," Rusty Simmons of the San Francisco Chronicle reported. "The doctor explained the suffering and deaths she has witnessed in patients who contracted the coronavirus, sources said, but Wiggins remains unmoved in his decision against vaccination."
The NBA is considering providing Andrew Wiggins with a religious exemption not to have to be vaccinated. However, the city of San Francisco has the sole ability to override said exemption. This has led to suggestions that Golden State might move the 26-year-old wing ahead of the start of the regular season next month. If so, here's a look at four ideal trade scenarios.
Andrew Wiggins trade to the Toronto Raptors
Warriors get: Pascal Siakam
Raptors get: Andrew Wiggins, two future first-round picks
Local COVID-19 policies in Toronto are tricky in that authorities do require vaccine proof for individual attending large indoor events. However, there's no information on whether players are included here.
From a pure basketball perspective, Wiggins actually makes sense for Toronto. He's a native to the city and can help the team remain relevant after a down 2020-21 season. The idea of teaming Wiggins up with rookie No. 4 pick Scottie Barnes would form an elite defensive pairing. Add in Fred VanVleet and Gary Trent Jr., and there's enough scoring to go around.
As for the Dubs, they were linked to Siakam during the summer. For good reason. He's still only 27 years old and is averaging 22.1 points to go with 7.3 rebounds and 3.9 assists over the past two seasons. The forward would also be a better fit in the frontcourt next to Draymond Green in comparison to the aforementioned Ben Simmons.
Andrew Wiggins trade to the Dallas Mavericks
Warriors get: Kristaps Porzingis, Josh Green, future first-round pick
Mavericks get: Andrew Wiggins
Porzingis' injury history and albatross of a contract has him being viewed as a net negative on the trade block. He's also seemingly unhappy with the organization and was previously linked to the Warriors in trade talks. While this wouldn't necessarily be fair-market value for Golden State, Porzingis offers a nice amount of upside. It's also important to note that availability is the best asset. That could limit what the Dubs receive for Wiggins given his vaccine stance.