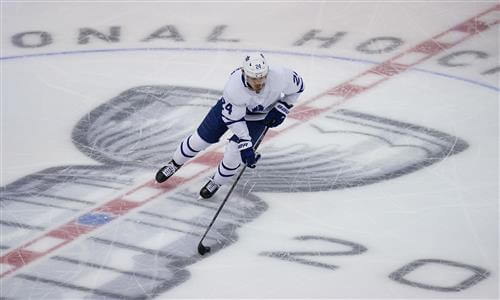 A quick mix of the things we gleaned from the week of hockey, serious and less so, and rolling four lines deep. We're under 60 hours till deadline. LTIR you ready?
1. "It's all on the table for us at this point," Kyle Dubas declared during a Maple Leafs TV broadcast last week.
If the NHL's trade deadline is akin to playing poker, as Oilers GM Ken Holland said Friday, Toronto's general manager is the guy raising triple the big blind pre-flop.
Not only has Dubas been upfront for weeks about his desire to add to the best team in the North, his pre-deadline manoeuvres all hint at the big push into the middle. The exec has gathered cap space by letting useful depth forwards Jimmy Vesey and Travis Boyd walk the waiver wire. And now squeezed the cap rules for a wee more juice by acquiring injured UFA Riley Nash from Columbus and sliding him onto LTIR.
"It is no secret that we are going to be a team that is going to be looking to acquire players at the deadline," Dubas said.
Players. Plural.
At this point, he's pot committed. Eager to see how things unfold.
Dubas isn't the only exec we'll be watching for tells this weekend. Three other buyers of high interest:
• The surprise Florida Panthers are still winning without Aaron Ekblad. Their recent salary-clearing move has opened up more cap space than any other contender ($14.2 million). If ownership is OK to spend, Bill Zito could add more than one significant piece.
• The Carolina Hurricanes have the next most space ($8.9 million), plus the best points percentage in the NHL (.731). Yes, they're another budget squad, but the Canes' chances of winning the Stanley Cup haven't been so good since they did. Neither their coach, Rod Brind'Amour, nor their No. 1 defenceman, Dougie Hamilton, is under contract for 2021-22. Might as well strike now.
• The Boston Bruins are in a fascinating spot. Their high-end players are delivering and aging. Their crease is two rookies on emergency loan. And they have players they could trade (Jake DeBrusk) plus the cap room ($5.9 million) to chase a marquee target like a Taylor Hall. Obvious holes on Line 2 and left wing need improvement.
2. For what it's worth, seven teams have scouted all of the past five Maple Leafs home games in-person: the Los Angeles Kings, Columbus Blue Jackets
, Dallas Stars, Carolina Hurricanes, Boston Bruins, Montreal Canadiens and Winnipeg Jets.
The Jets and Habs are both foreseeable playoff opponents.
The others have potential to be trade partners. Although, especially in a season where scouts' travel is limited, we hesitate to read too much into game attendance.
Grain of salt and all that. But it's fun to let the gears turn.