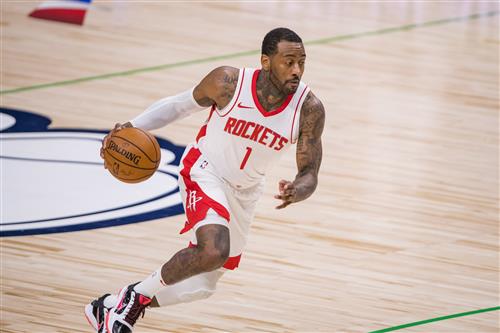 John Wall and the Houston Rockets have reportedly agreed to try and find a way to trade the 6-foot-3 point guard out of Houston. However, doing so may prove to be a near impossible task for the Rockets because of Wall's sizable deal. Wall is set to make $44.3 million this upcoming season and has a player option worth $47.4 million in the 2022-23 campaign.
There are no reports yet that Wall is interested in accepting a buyout with the Rockets, which would mean he would take less money to become a free agent. Still, it's hard to envision this situation ending up in a trade considering Wall's "untradeable" contact. Even Portland Trail Blazers star CJ McCollum thinks it's going to difficult for Houston to find a team willing to trade for the 31-year old.
Wall could very well stay put and just wait on the sidelines until the Rockets find a deal. But 31 years old, Wall may be looking to play on a contender for the chance to win a championship instead of wasting away a season by not playing at all. Thus, if he intends to suit up at some point this 2021-22 season and play meaningful basketball, he might as well just agree to a buyout. With that said, here are four potential landing spots for John Wall should the Houston Rockets buy him out.
Potential John Wall New Teams
1. Los Angeles Clippers
The Los Angeles Clippers are probably the team most associated as a potential landing spot for John Wall. Those speculations only heightened after he was recently spotted with Clippers star Paul George in Los Angeles.
A partnership between the Clippers and John Wall makes a lot of sense. Though they did acquire Eric Bledsoe this offseason to serve as their de facto starting point guard, adding a player of Wall's caliber should be a no-brainer. There have already been rumors that the Clippers could try and go after Wall when the Rockets officially made him available on the trade market. But certainly, Los Angeles would rather scoop him up on the waiver wire than give up assets to obtain him.
With Kawhi Leonard out indefinitely, Wall should see a sizable role with the Clippers. The 5-time All-Star will likely get the starting nod over Eric Bledsoe from head coach Ty Lue. He will provide the Clippers with a proven playmaker who will set the table for their offense.
The 6-foot-3 guard is probably no longer the player he was in his prime, but he showed this past season with the Rockets that he is still capable of putting up steady production. In 40 games, he averaged 20.6 points and 6.9 assists. Should Leonard come back near the end of the season, the Clippers with Wall will undoubtedly be a team to watch out for in the 2022 postseason.