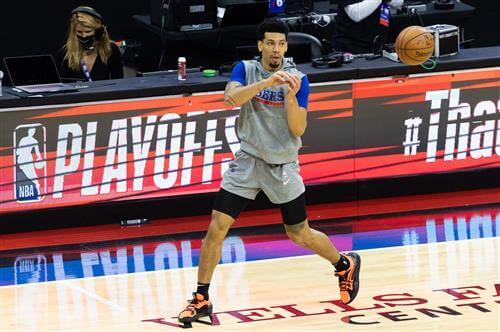 After a season where Danny Green shot 41.2% from the field and 40.5% from 3-point land while providing the Sixers with great perimeter defense, he will not be expected back in Philly next season. With a proven track record of reliable shooting and hard-nosed defense, Danny Green would be a great addition to a contending team in need of a veteran leader with a championship pedigree.
Given his previous success, strong work ethic, and great locker room presence, Green won't have any shortage of suitors this summer. Having said all this, let's take a look at the four best landing spots for him during the NBA free agency frenzy in summer 2021.
Miami Heat
With Goran Dragic, Duncan Robinson, and Kendrick Nunn set to hit free agency this summer, there's a strong chance they will not be returning to the Heat next season. Given how much floor spacing, ball movement, and 3-point shooting those three players provided the Heat with, it's safe to say there will be a strong void to fill in Miami next season.
Enter Danny Green, a three-time NBA champion, explosive 3-point shooter and versatile perimeter defender that would perfectly fit the mold of the Miami Heat mantra. As one of the best shot blocking guards in the NBA, Green would exemplify the Heat culture on a nightly basis. Green would also provide this young Heat team with another reliable veteran that coach Erik Spoelstra could count on in the playoffs.
Golden State Warriors
Given that the Warriors desperately need to get as much scoring help as they can for Stephen Curry, it only seems ideal that they go after an accomplished shooter like free agent-to-be Danny Green. As a catch-and-shoot deep threat, Green would open up the floor for their up-tempo offense with his ability to play shooting guard or small forward.
Plus with Klay Thompson set to be back to back at full strength next season, their scoring and ball movement would be a nightmare for opposing defenses. On the defensive end he'd be a welcome addition as well with his versatile perimeter defense that enables him to guard anybody from point guards to power forwards. He and Draymond Green could anchor the Warriors defense and once again make them an elite defensive unit that puts the league on notice.