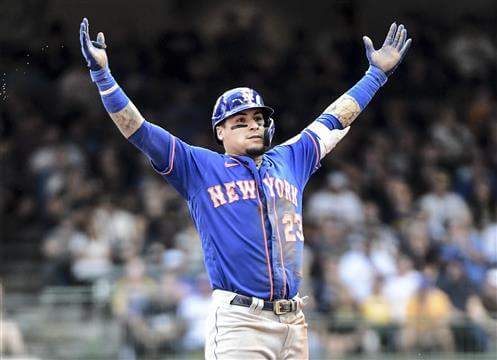 Javier Báez is one of the most fascinating players in the 2021-'22 MLB free agency. An electrifying fielder capable of making stunning highlights with the glove and bat, Báez's personality and passion for baseball represent the direction this game is headed.
In a loaded class of free-agent shortstops, Báez offers a resume that competes with all of them. A two-time All-Star, a 2016 World Series champion, playoff hero and a 2020 Gold Glove Award recipient. But the Puerto Rican native also comes with some risk and an on-field reputation that might make him the wrong fit for a few clubs.
Even if some stay away, the combination of talent and marketability "El Mago" brings to the table will land him a lucrative contract. With that in mind, let's examine the best free-agent destinations for Javier Báez.
Javier Báez signs with Seattle Mariners
Seattle Mariners president of baseball operations Jerry Dipoto knows what he wants this winter. With J.P. Crawford entrenched at shortstop, Seattle is looking for an infielder who "who is adaptable and willing to move around the field and maybe get a little uncomfortable." That is Javier Báez in every single way.
Since the 2017 season, Báez has played 486 games at shortstop, 320 at second base, 104 at third base and appeared in the outfield for 4.2 innings (FanGraphs). This is a player who is more than willing to handle the double play, staring down an incoming runner hurtling towards him before firing off a throw to first base.
There are massive flaws with his approach at the plate, but Dipoto's desire for a free-agent addition is specific and Báez checks off the boxes. He would bring energy to the stadium and the way he plays the game would mesh perfectly with a young team.