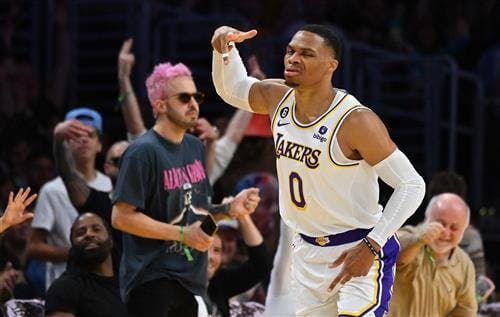 As the NBA heads closer to the trade deadline, there will likely be a number of teams that are looking to make moves. The Brooklyn Nets are a team that has struggled to be consistent this year, despite all the talent that is on the roster. The Los Angeles Lakers are a team that is looking to make a win-now move, and the Utah Jazz have cooled off after a strong start this season. Perhaps there is a three-team deal that could help each team improve its situation.
Our trade scenario features star Kyrie Irving getting moved to the Los Angeles Lakers, the Brooklyn Nets getting three valuable veterans, and the Utah Jazz getting draft compensation. Here is our trade scenario:
Los Angeles Lakers Receive: Kyrie Irving, Seth Curry
Brooklyn Nets Receive: Jordan Clarkson, Kelly Olynyk, Mike Conley
Utah Jazz Receive: Russell Westbrook, 2027 First-Round Pick (LAL), 2029 First-Round Pick (LAL)
There is no question that this deal is fair for all parties involved, and has benefits for each franchise. In a blockbuster deal, it is important for each franchise to feel as though they have walked away and furthered their goals, and this is the sort of multi-team trade that could potentially happen in real life. Here are some reasons for each franchise to do the deal.
The Los Angeles Lakers Add A Third Star Behind LeBron James And Anthony Davis
The Los Angeles Lakers have been holding out on trading their first-round picks to ensure that their next move gives them a real chance of winning a championship. This is the sort of deal where they could potentially surrender draft capital to make a win-now move.