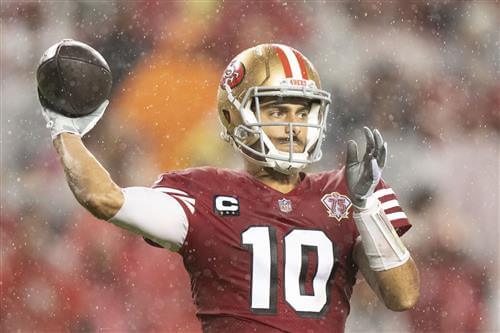 The San Francisco 49ers are now losers of four consecutive games following their ugly home outing against the Indianapolis Colts on Sunday night.
Sitting at 2-4 on the season and 4.5 games behind the division-leading Arizona Cardinals in the NFC West, San Francisco is going nowhere fast this season.
The backdrop here is a quarterback in Jimmy Garoppolo who has accounted for as many turnovers (seven) as touchdowns (seven) on the season and a head coach, Kyle Shanahan, who is suddenly in over his head as a playcaller.
With a week go to ahead of the NFL trade deadline, general manager John Lynch needs to do something to light a fire under this team. He also must look to beyond what's seemingly a lost 2021 season. Meanwhile, Shanahan himself has to check his ego at the door and make one pretty obvious move. Here's a look at three things the San Francisco 49ers must do to get it right.
San Francisco 49ers trade Mike McGlinchey
One of Lynch's many early-round misses since he took over as general manager, McGlinchey has regressed big time in recent years. There was a point a few years ago when the former top-10 pick from Notre Dame looked like the right tackle of the future. Now, he struggles big time in pass protection.
San Francisco could look to move the still-young 26-year-old lineman inside, but his 6-foot-8 frame and lack of strength might prevent that. Instead, it makes sense to nab a second-round pick and change for the tackle. The 49ers could then insert rookie fifth-round pick Jaylon Moore at right tackle opposite Trent Williams. He drew rave reviews during the preseason and performed well in Week 7 replacing Williams at left tackle.