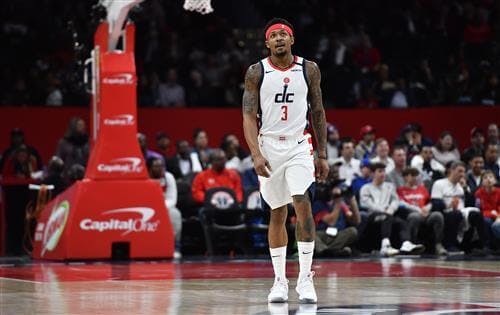 Let me preface this entire article by saying that is undetermined if Bradley Beal will request a trade from the Washington Wizards this NBA offseason.
There are reports that indicate of a possible desire to be traded from Beal, but the All-Star shooting guard hasn't said anything himself.
In the event that Beal does want out of Washington, there are a conglomerate of teams that would love to have a chance to make an offer to the Wizards, including the Philadelphia 76ers.
Of the teams listed as potential pursuers of Beal, the 76ers, the Atlanta Hawks, the Golden State Warriors, the Miami Heat, and the Boston Celtics are all in the mix.
Beal continues to ponder his future in Washington and the team's recent coaching change could be enough for him to move on.
While we await a potential trade involving Beal, let's take a look at a few hypothetical trade scenarios that would send Beal to the 76ers.
Philadelphia 76ers Receive: Bradley Beal
Washington Wizards Receive: Ben Simmons, Matisse Thybulle, Tyrese Maxey, 2022 first-round pick (most favorable), 2024 first-round pick (most favorable)
If the Wizards are willing to do business with the 76ers for Beal, it's almost inevitable that Ben Simmons needs to be at the forefront of the deal.
Philadelphia has remained mum on Simmons' future with the franchise, but Daryl Morey understands that Joel Embiid needs more spacing around him, which is something that Simmons doesn't bring.
Getting Beal would give the 76ers a primary ball-handler that can score at will against opposing defenses. Besides Simmons, Tyrese Maxey and Matisse Thybulle are intriguing young players that could interest the Wizards in a possible trade.