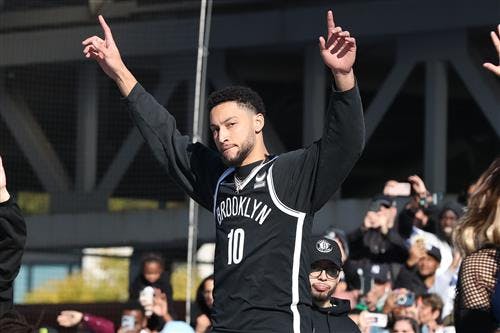 If you're reading this, chances are you're a fan of the NBA. Do you play basketball?
We don't mean professionally – although, if you're reading this as an NBA player, we're sorry about that trade proposal you didn't like. We're talking about amateur basketball. Do you play?
If so, playing with a guy who won't shoot is frustrating. He's wide open – take the shot! We don't care if you miss: we just want the offense to flow.
This is the Ben Simmons experience. At his best, he's a highly impactful NBA player. Simmons is one of the best defenders in the NBA and one of its best passers too. With that said, his unwillingness to shoot has been a substantial issue for the Brooklyn Nets this season.
So substantial, in fact, that the trade rumors are already circulating.
Here are three ideas for the Nets that could have Simmons heading elsewhere.
Dallas Mavericks
Brooklyn Nets Receive: G/F Tim Hardaway Jr., F Davis Bertans, 2025 First-Round Pick (Lottery Protected – DAL)
Dallas Mavericks Receive: G/F Ben Simmons
In fact, a recent rumor suggested that the Nets had spoken to a Western Conference team about a trade that would send them Simmons in exchange for a "veteran shooter." Expect that to be a theme here.
Granted, Hardaway Jr. hasn't fit that bill in 2022-23. Following a return from injury, his three-point efficiency has been ghastly. Why should the Nets be interested in him?
Well, we'd expect that trend to change. Hardaway Jr. has been a reliable sniper for his whole career – he's probably just shaking off the rust.