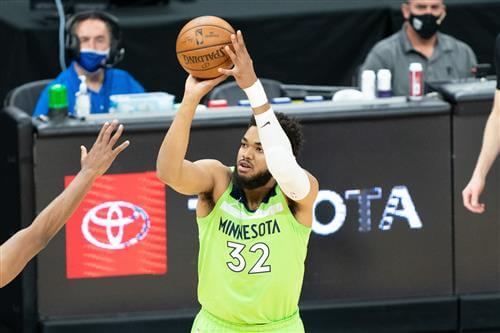 Karl-Anthony Towns has been in NBA trade rumors at times for what feels like years now. He originally signed an extension to remain in Minnesota long-term, but that might not be the case if the team wants to blow it up. This would not be the worst decision to make for a rebuilding franchise far away from competing.
Towns has solidified himself as one of the best big men in the NBA. His skills fit right into the current style of stretch big man that can shoot from deep and compete down low.
Towns has been a double-double machine throughout his career and averaging 22.9 points and 11.6 rebounds per contest. So far, it has not translated into success for the Timberwolves.
The Timberwolves have made the postseason just one time since drafting Towns with the first-overall pick in 2015. They have attempted to put perimeter players around him, such as D'Angelo Russell. He is another big name that is on the trading block, along with Malik Beasley.
The Timberwolves have plenty of star power if they want to have a fire sale, either at the end of the regular season or at the NBA trade deadline. Making a trade involving Towns would allow them to rebuild some assets and gain pieces moving forward with Anthony Edwards as the focus.
There is no doubt that many teams would be interested in a trade for Karl-Anthony Towns if he is made available. Let's take a look at three potential landing spots that could be on the phone quickly for the big man.
3. Atlanta Hawks
The Atlanta Hawks would be a surprise team on this list and play for Karl-Anthony Towns. They recently signed both Clint Capela and John Collins to contract extensions and are pretty set down low. However, it does not mean that they will not want to improve in any way they can.
Atlanta is coming off a season where they made a surprise run to the Eastern Conference Finals. Defeating the Philadelphia 76ers in seven games in the Eastern Conference Semi-Finals sent a message, but the Hawks did not have enough to get by the Milwaukee Bucks.
Now, the Hawks will look to stay near the top of the Eastern Conference moving forward. Doing so will be challenging given the star power at the top of the conference, which is why the Hawks can look to add some of their own.
Towns in the frontcourt with the likes of Trae Young and Collins could build a bit of a big three in Atlanta. The Atlanta Hawks have some options if they would send away, such as Capela and Bogdan Bogdanovic, along with draft picks.
Getting a trade done for Towns all comes down to what the Timberwolves will be looking for in return. If Atlanta finds a way to get this deal done without giving away Collins, it is a huge win and a no-brainer for the organization.