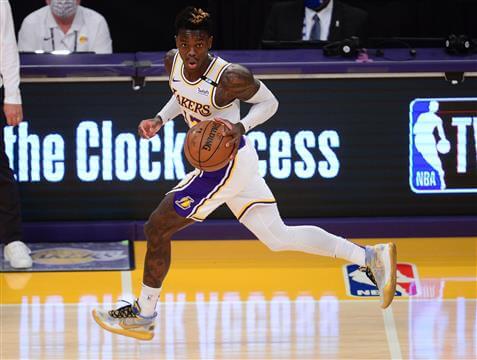 Free agency this NBA offseason did not feature a lot of big names and All-Stars like in year's past, but one of the marquee names available was and still is Dennis Schroder. The 27-year-old point guard has consistently been a key contributor for his teams over the years and continued doing so in Los Angeles this past year.
Next to LeBron James and Anthony Davis, Schroder averaged 15.4 points, 5.8 assists and shot 43.7% from the floor, but he struggled from three-point range and his market has not been vast whatsoever. Very few teams have expressed interest in the German point guard and this is because his asking price entering free agency was ridiculous.
Dennis Schroder wanted a $100M+ contract this offseason, which is ridiculous since he is not close to being an All-Star-level talent! The Lakers were even generous enough to offer Schroder an $84M extension in the middle of the 2020-21 season, but he had the audacity to turn this offer down.
The contract situation with Dennis Schroder makes absolutely no sense and while I praise him and his agent for trying to get the most value out of his recent performances, their demands have just been ludicrous. Now, he's barely being mentioned in rumors for a landing spot in NBA free agency.
Schroder is not going to get the kind of offer he wants anymore at this point in free agency and to be honest, he is running the risk of being out of the league at this point unless he is willing to take a huge pay cut this offseason.
The market for Dennis Schroder is very, very, very thin right now, but here are three teams who could still consider adding him to their roster this offseason, that is if he is willing to negotiate a much smaller deal than he wanted when free agency began.
New Orleans Pelicans
The New Orleans Pelicans are one of the only teams in the league still with enough cap space to pursue a guy like Dennis Schroder, but do they really want to? After acquiring Devonte' Graham via a sign-and-trade from the Hornets, the Pelicans is going to be hard-capped for the first-time in their franchise's history and they may not want to spend any more money as a result.
However, adding Schroder to this group with Graham, Ingram, Williamson and Valanciunas could definitely help elevate the Pelicans back to the playoffs, which is why they could look to pursue Schroder in a smaller deal.
With roughly $11M in cap space left, the Pelicans definitely could pursue Schroder if they chose to do so, but they would wind up adding him to a backcourt with Devonte' Graham, Tomas Satoransky, Nickeil Alexander-Walker and last year's rookie, Kira Lewis Jr.