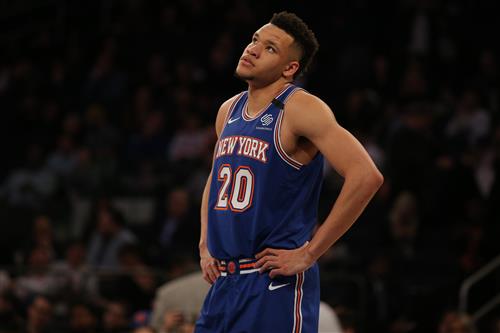 The New York Knicks had a massive season last year, making the playoffs for the first time since 2013 and claiming the 4-seed in the Eastern Conference. Losing in the first round to Trae Young and the Hawks definitely hurt, but the Knicks are back and they are going to be a tough team to face once again this NBA season.
Being one of the best defensive teams in the league, it is extremely tough for the other 29 teams in the league to face New York night-in and night-out, but now they are even better on offense this season than they were last season with the additions of Kemba Walker and Evan Fournier.
With these two next to Julius Randle, R.J. Barrett, and some other key talents on the Knicks' roster, this team could all of a sudden be a sneaky contender in the Eastern Conference.
The Knicks also have a ton of young talents on their roster that they will look to work into the rotations at some point in the year. Obi Toppin is last year's 8th overall pick who will look to have a big role behind Julius Randle and rookies Miles McBridge and Quentin Grimes will also get their fair share of playing time, but former top pick Kevin Knox seems to be the "odd-man-out."
Knox ended up being one of the final guys to make the roster for New York this year and while he was drafted 9th overall in 2018, Kevin Knox is a player that the Knicks seem to be done with. His minutes have decreased every year since his rookie season in the league and he has been mentioned as a player the Knicks will look to move in a trade this season.
Not producing at all when on the floor in New York, but still only being 22-years-old, which teams in the league could potentially be interested in the Knicks' former lottery pick?
Houston Rockets
Seeing as they are rebuilding in the post-James Harden era, the Houston Rockets are definitely a potential landing spot for Kevin Knox. Finding athletic, versatile players is something Houston has looked to do this offseason and they did so in the draft, adding the likes of Jalen Green, Josh Christopher, and others.
Kevin Knox is only 22-years-old and while he has not played well early on in his career, he was definitely one of the more talked about prospects coming out of college in 2018. The Rockets have always been known to have a great development coaching staff on hand, so maybe they would be able to find something in Knox that the New York Knicks were unable to.
Not to mention, Houston definitely has room for a versatile, athletic wing player on their roster. Eric Gordon and Danuel House Jr. are two veterans the Houston Rockets are going to look to phase out of their rotations/roster at some point this season, which is why Knox could have an opportunity to play here.