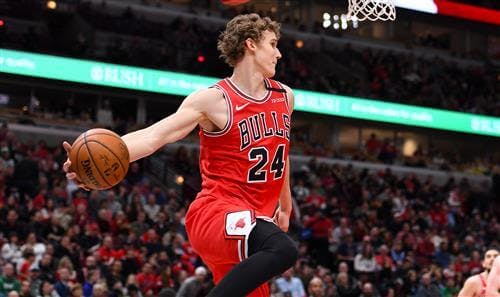 Many of the top NBA free agents have already agreed to a contract while Lauri Markkanen remains an intriguing name that remains available in restricted free agency.
Since the Chicago Bulls acquired Nikola Vucevic ahead of the NBA trade deadline back in March, there hasn't been a clean fit for Markkanen. The frontcourt duo was too underwhelming defensively for it to be a viable fit. Wendell Carter Jr. was able to cover up some of those concerns but Vucevic is unable.
The production that Markkanen achieved was the worst of his career within a single-season in 2020-21. His playing time went down to an average of 25.8 minutes and his averages declined to 13.6 points and 5.3 rebounds. He did still manage to 40.2% from the perimeter on 5.8 attempts per game.
The Bulls are reportedly seeking a first-round pick to facilitate a sign-and-trade involving Markkenen in addition to requiring outgoing salary to be dealt to a third-team.
Some believe that Markkanen could end up signing the qualifying offer if he is unable to get a sign-and-trade deal with the Bulls' cooperation. That could happen if a team isn't willing to offer a deal that is worthy of signing for the next three seasons, which is the length required for a sign-and-trade.
Let's take a look at three teams who could look to pull off a sign-and-trade deal for Lauri Markkenen.
Minnesota Timberwolves
It has been a mostly quiet offseason for the Minnesota Timberwolves. The team did not make a selection in the 2021 NBA Draft after losing their selection to the Golden State Warriors in part of the D'Angelo Russell trade, which ended up being used on Jonathan Kuminga.
The Timberwolves have added some key players recently to pair with Karl-Anthony Towns between Russell and Anthony Edwards, but there are still some needs around those key players.
Earlier in the offseason, the Timberwolves were linked to Danilo Gallinari as a potential trade option to fill the four spot. A deal hasn't happened yet, but Lauri Markkanen could be an intriguing alternative option to add more sharpshooter in the frontcourt.
There would be some valid concerns about the defensive limitations of a frontcourt that consists of Lauri Markkanen and Karl-Anthony Towns. Minnesota would need to be solid on the fact that a massive leap in offensive output would occur to outpace the results on defense.