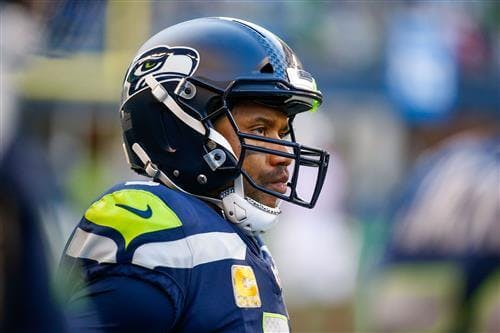 Russell Wilson and the Seattle Seahawks could be coming to a crossroads for the franchise in the very near future. After a 3-8 start to the season, their hopes of coming back and getting into the playoffs are practically gone. Now, they will have to focus on potential changes that they need to make to either retool or rebuild their roster.
Wilson is a name that NFL fans will need to keep a close eye on this coming offseason. He has had issues with the franchise in the past and many believe he could look to find his way out of Seattle in the offseason. If that is the case, the Seahawks will have to find a blockbuster trade to move him.
So far this season, Wilson has missed some time due to injury. He has played in eight games, completing 64.9 percent of his pass attempts for 1,811 yards, 12 touchdowns, and three interceptions. In addition to his passing numbers, Wilson has picked up 118 yards and another score on the ground.
There is no question that Wilson is still one of the best quarterbacks in the NFL when he's healthy. However, the system in Seattle simply doesn't seem to be fitting well with his game anymore. Whether Wilson ends up being traded or the Seahawks move on from Pete Carroll, something needs to change.
All of that being said, let's dive in and take a look at three teams that should already be preparing to pursue a trade for Russell Wilson this offseason.
3. Cleveland Browns
One intriguing team to keep an eye on could be the Browns, who might be interested in making a change at the quarterback position this offseason. Baker Mayfield simply hasn't been getting the job done this year. He has been banged up, but Cleveland has to make a decision on what the future holds under center.