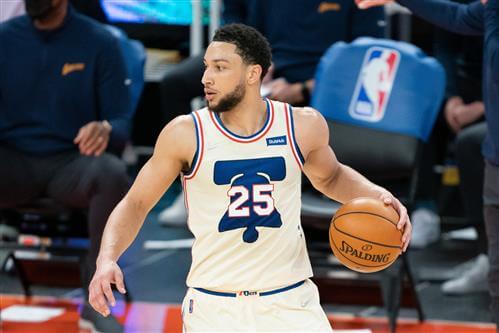 The Philadelphia 76ers have been involved in a ton of rumors this NBA offseason that are centered around Ben Simmons. Right after they were eliminated from the postseason by the Atlanta Hawks in the second round of the postseason, trade rumors picked up.
Simmons was who many people blamed the team's struggles on. His refusal to shoot the ball offensively was stagnating the team's offense and was certainly part of the reason they lost, but was not the sole reason.
The 76ers are holding out hope that Simmons will return and play with the team again but that seems like a long shot. Simmons has no interest in playing for the 76ers again and wants to be traded.
Philadelphia has said that they will fine him for all the time that he misses, which isn't going to make things any more cordial between the two sides.
While the 76ers haven't received any offers that they like, there have been plenty of teams as rumored trade partners. At 25-years old, virtually every team in the league should have some level of interest in him.
Most recently, the Minnesota Timberwolves and Cleveland Cavaliers have been mentioned as the likeliest landing spots.
The Indiana Pacers, Portland Trail Blazers, Sacramento Kings, Golden State Warriors, San Antonio Spurs, New Orleans Pelicans, Toronto Raptors, and Houston Rockets have also been connected to Simmons.
All of those teams would like to add Simmons, but some would be better fits than others. Here are three rumored landing spots for Simmons that do not make sense.
Golden State Warriors
The Golden State Warriors were one of the teams that Ben Simmons reportedly would like to be traded to. While Simmons wants to be there, the feeling should not be mutual from Golden State's perspective.
Acquiring Simmons would create some lineup issues for head coach Steve Kerr. Configuring an offensive attack with one non-shooter in Draymond Green is hard enough. Adding a second one to the mix would make things even more complicated.
It is hard to envision a starting lineup in today's NBA with Green and Simmons succeeding. Simmons is essentially a souped-up version of Green as they bring a lot of the same strengths to a team.
Golden State would have an elite-level defense with those two players and Klay Thompson on the team. But, there would be some struggles offensively, especially if Thompson cannot return to form. That would put immense pressure on Stephen Curry to carry the load, as he would be the lone source of scoring until Thompson gets up to speed.
It is anyone's guess when that will occur. Thompson hasn't played in an NBA game since the 2019 NBA Finals and may never return to form after tearing his ACL and rupturing his Achilles.
Without Andrew Wiggins, who would presumably be included in any deal for Simmons, the Golden State Warriors wouldn't have a second scoring option to start the season.
Golden State would keep teams from scoring with Simmons on the roster but would struggle just as much scoring.