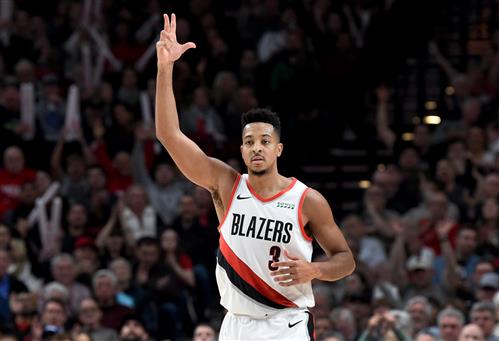 Back east, the Philadelphia 76ers are coming off a disastrous Game 7 loss to the Atlanta Hawks in the Eastern Conference Semifinals. Said loss had led to speculation that All-Star point guard Ben Simmons could be moved this summer. Here's a look at three reasons why a swap of the two star players could make sense for both the Blazers and 76ers.
Out west, the Portland Trail Blazers need help on defense. That's where trading C.J. McCollum could come into play following an ugly first-round exit in the 2021 NBA Playoffs.
C.J. McCollum would give the 76ers that outside shooting threat Ben Simmons didn't provide
Fresh off earning the No. 1 seed in the Eastern Conference with a 49-23 record, Philadelphia now needs to reassess its supporting cast behind NBA MVP finalist Joel Embiid. Even with Seth Curry showing out big time from three-point range in the playoffs, that includes finding more perimeter threats. 76ers players not named Curry hit on 34% of their three-point attempts during the playoffs. Obviously, a gun-shy Ben Simmons is not a threat outside of the low-post.
This is where C.J. McCollum comes into play. The 29-year-old guard is a career 40% shooter from three-point range. He hit on 169-of-420 attempts this past season, both of which would have been second behind pending free agent Danny Green on the Sixers' roster. If Philly is able to retain Green, having him team up with McCollum and Curry would give front office head Daryl Morey three competent veteran shooters.