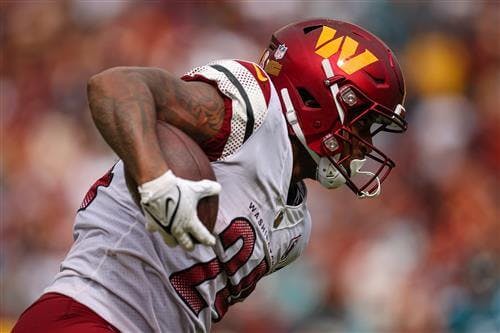 The Washington Commanders looked like they were going to have a dreadful season after losing four consecutive games at the beginning of the campaign. Since then, they have increased their playoff chances from 12% to 14% after beating the Green Bay Packers.
Now, with playoff chances slim and trade deadlines sneaking up, we could see the Commanders trade running back Antonio Gibson.
Gibson is an electric and dynamic running back who can attack on the ground efficiently and make plays through the air. His talent was hidden when Ron Rivera and the Commanders re-signed J.D. McKissic and made rookie Brian Robinson Jr. the starting running back over Gibson. Unlike Gibson, Robinson doesn't have as much talent when it comes to receiving, so McKissic returned and filled that void while making Gibson an odd man out.
This season with the Commanders, the young running back has recorded 273 rushing yards and two touchdowns in 71 attempts while averaging 3.8 yards per carry. In the air, he has racked up 170 yards and one touchdown in 22 receptions, averaging 7.7 yards per reception.
In the past, Gibson proved to be a talented running back but struggled with turnovers en route to lowering his value on a depth chart. He has greatly improved and would be a tremendous offensive asset to any roster.
Washington Commanders trade Antonio Gibson to Buffalo Bills
The Bills already have Devin Singletary at the running back spot but there are some scenarios that could play out well for Gibson and the Bills in 2023. Singletary — who is under contract until 2023 — may or may not re-sign with Buffalo. If Buffalo is unable to re-sign Singletary, then Gibson and James Cook would be a one-two punch for the Buffalo offense. If Singletary did re-sign, then Gibson's dynamic playstyle would still be utilized while getting to train under a robust running offense.
Antonio Gibson stats (2021): 1,037 rushing yards, 42 receptions, 294 receiving yards, 1,331 total yards, 10 TD
Scenario two would include the Bills trading Zach Moss to make room for Gibson. Moss's contract is also up in 2023, but with his history of getting injured the Bills could negotiate a trade to obtain Gibson. Either way, adding Gibson to the Bills' offense would just be adding another weapon both in the backfield and downfield for Josh Allen.