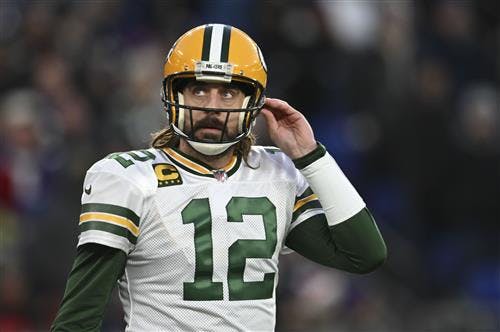 It's only a matter of time until the Green Bay Packers and New York Jets execute the Aaron Rodgers trade that everyone is waiting for. While there are still very few details on when Rodgers will be traded or what the deal will look like, speculation and insight can paint a picture.
There is still plenty of debate over who holds leverage in trade negotiations. Arguments for New York point to the money Rodgers is owed by Green Bay, his expressed desire to only play for the Jets and Green Bay's public statements expressing its desire to move on from their star.
However, the Jets might also be staring down a worst-case scenario that would put jobs in jeopardy. If fans are teased landing a future Hall of Fame quarterback but a deal doesn't come to fruition, Zach Wilson is the starter in 2023. Wilson starting for the Jets next season would likely yield another year without a playoff appearance, culminating in general manager Joe Douglas and head coach Robert Saleh being dismissed.
Aaron Rodgers career stats: 103.6 QB rating, 475-105 TD-INT, 59,055 passing yards
Both sides will eventually reach a settlement, agreeing to a deal that neither team loves but is willing to accept. Here we're looking at three potential deals that could lead to the long-awaited trade everyone is waiting for.
Green Bay Packers, New York Jets swing a simple deal
It's evident Green Bay wants the Jets' first-round pick. While several executives around the league don't believe it happens, the Packers' asking price is reasonable considering the alternative for New York. As part of the negotiating process, general manager Brian Gutekunst is likely seeking even more than the 13th overall pick. However, that might all be part of the plan to reach the middle ground before the 2023 NFL Draft.
Green Bay Packers trade: Aaron Rodgers
New York Jets trade: 13th overall pick
It's a really cut-and-dry agreement for both sides. While New York would prefer to keep the 13th pick, using it on an offensive tackle to protect Rodgers, trading it beats the alternative. The Jets also now have two early second-round picks in a deep draft class, which they can use to fortify the roster around Rodgers.
Naturally, the Packers get what they want. A pair of top-15 picks means Green Bay can take a wide receiver at 13th overall and then a pass rusher or offensive tackle with its original first-round selection. All of this helps build a young supporting cast around Jordan Love and Matt LaFleur adds a rookie he can immediately get to work on implementing into his system.