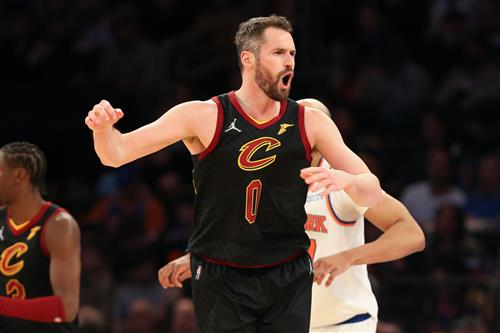 The Cleveland Cavaliers took big steps in the 2021-22 NBA season. Since LeBron James left town, Cleveland has had trouble finding consistency but that might be coming to an end.
The Cavaliers are the spot in the play-in portion of the postseason but were eliminated prior to series play. They saw some bad luck by having to take on the Brooklyn Nets in the first game. heading into next season, there is a core in Cleveland to rely on and identity has been formed.
Darius Garland stepped in for an injured Collin Sexton and earned his first All-Star nod. In the frontcourt, Evan Mobley and Jarrett Allen held it down and proved to be a duo for the future. Now, the Cavaliers have a decision to make with Kevin Love.
The Cleveland Cavaliers originally brought Love to town to team up with James and Kyrie Irving in hopes of winning a championship. This trio was able to deliver the first title in Cavaliers' history. Now, Love is entering the final year of his deal and is the biggest trade piece on the roster at the moment.
When healthy, Love is an experienced veteran that could still get it done on both ends. This is a valuable piece for a team looking to win right away.
When looking around the league, there are three teams that stick out as potential trade suitors for Kevin Love. Let's take a look at those three teams and see how we deal might get done this offseason.
Los Angeles Lakers
When looking at recent history, the Los Angeles Lakers might be one of the biggest suitors for Kevin Love.