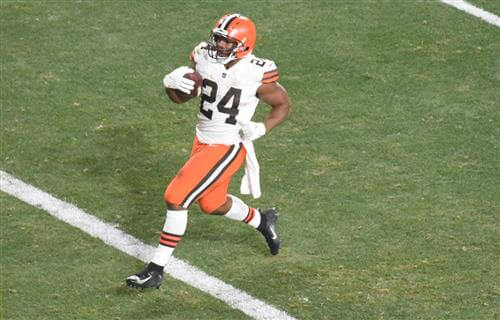 The Cleveland Browns announced the release of defensive tackle Sheldon Richardson on Friday, which is a cost-cutting move that'll save the team $11 million in salary cap space for the 2021 season.
This leaves Cleveland with just under $21 million in cap room, which is more than enough to not only sign its incoming 2021 NFL Draft class, but also to take care of some other business on the personnel side.
Richardson's departure leaves a hole on the Browns' defensive front, featuring a suspect rotation of interior linemen led by free-agent acquisition Malik Jackson and 2020 opt out Andrew Billings.
While there's a chance Richardson comes back at a reduced price, let's assume he's out of the picture. Here are three big moves Cleveland can make with Richardson leaving.
Give Nick Chubb a nice contract extension
While quarterback Baker Mayfield and cornerback Denzel Ward are going to be big priorities next offseason, elite running back Nick Chubb is worthy of a contract extension right now.
Unlike Mayfield and Ward, whose fifth-year options will inevitably be picked up to keep them locked in through 2022, Chubb was a second-round pick who's in the final year of his rookie deal.
All Chubb has done since entering the NFL is take the league by storm. Through three seasons, he has 3,557 yards rushing on 5.2 yards per tote and 28 touchdowns on the ground. Given how run-centric Browns coach Kevin Stefanski's offense is, Chubb is more valuable to Cleveland's cause than most other replacement-caliber tailbacks.