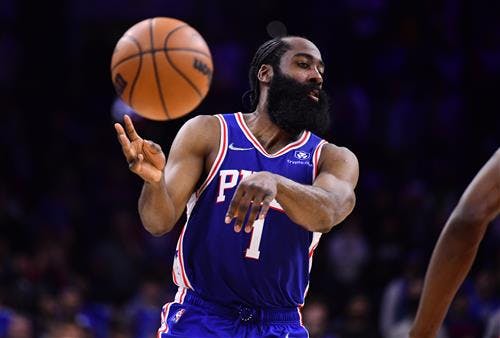 The Philadelphia 76ers set some lofty expectations when they acquired James Harden at this year's NBA trade deadline. Having been eliminated in the Eastern Conference Semifinals, it's fair to say they fell short of them.
This offseason, they'll need to improve their roster. In all likelihood, they'll tinker on the margins to put better role players around Joel Embiid, James Harden, and Tyrese Maxey.
On the other hand, what if they did something a little more drastic?
Something like, for example, trading James Harden. Listen, we know that's unlikely. Here's the thing about reality: it's boring. On the other hand, thinking about possibilities widens one's perspective. At the risk of getting too philosophical, valid justifications exist for many unlikely choices.
The 76ers could at least entertain the idea of moving on from The Beard shortly after acquiring him. He looks like he may be exiting his prime, and meanwhile, Tyrese Maxey is on the upswing. Perhaps the Sixers would prefer to enter 2022-23 with a dynamic wing/forward alongside him and Embiid.
If so, here are three trade possibilities that could intrigue the organization.
Philadelphia 76ers Receive: F Gordon Hayward, G Terry Rozier, 2024 First-Round Pick (CHA)
Charlotte Hornets Receive: G James Harden
Certainly, this feels like one of those unlikely choices we just spoke about.