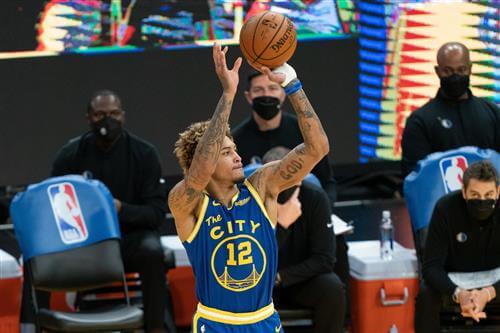 Kelly Oubre Jr. is about to become a very rich man during NBA free agency. The 25-year old forward had a tough time acclimating himself at times this season with the Golden State Warriors while battling a wrist injury, but plenty of teams will be monitoring his situation this summer.
Oubre averaged 15.4 points, 6.0 rebounds, 1.3 assists and 1.0 steals in 30.7 minutes per game in 2020-21 with the Warriors. Those numbers are a slight drop from his breakout 2019-20 with the Phoenix Suns when he averaged 18.7 points, 6.4 rebounds, 1.5 assists and 1.3 steals per game.
His efficiency dropped across the board, as he shot 45.2 percent overall, 35.2 percent from the 3-point line and 78 percent from the foul line with the Suns but only 43.9 percent overall, 31.6 percent from the 3-point line and 69.5 percent from the foul line with the Warriors.
Teams will be hoping that the decrease in the shooting was due to the injuries he tried to battle through with Golden State and that he can get back closer to his efficiency with Phoenix.
There is a lot of untapped potential there, especially on the defensive side of the ball, which organizations will believe they can unlock. Which teams are good fits for Oubre Jr.?
Let's take a look at three perfect destinations for the "Tsunami Papi" in free agency.
Oklahoma City Thunder
Last season the Oklahoma City Thunder used a barebones roster that had very little NBA experience, especially after Al Horford was sent home and Shai Gilgeous-Alexander was shut down.
Eventually, the Thunder are going to have to start adding veterans to build up the roster and Kelly Oubre Jr. would be a good player to start with.
Oubre Jr. will turn 26-years old during the 2021-22 season, so he still fits the timeline of a rebuilding team. Oklahoma City has nothing on the wing when it comes to depth, as there are zero players listed as small forwards currently on the roster.
Oubre Jr. would give the Thunder some much-needed scoring punch, as they were last in the NBA in Offensive Rating this past season. Gilgeous-Alexander and Kemba Walker, if he ever suits up for OKC, are the only players on the roster that can create their own offense.
Sam Presti and company are armed with plenty of draft picks and salary cap, so the roster will look a lot different this upcoming season. Oubre Jr. would be a good piece for that roster facelift.