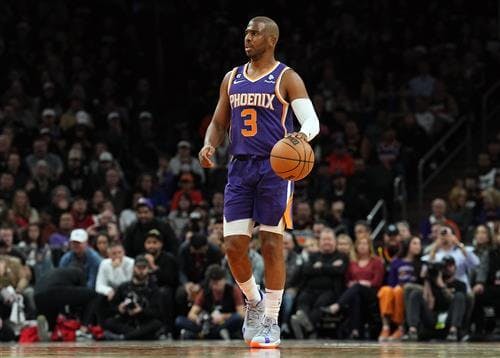 There's now a decent chance that we'll see a Chris Paul trade from the Phoenix Suns between now and Thursday's NBA trade deadline.
Whoever leaked his potential inclusion in a trade offer to the Brooklyn Nets for Kyrie Irving increased these odds. Once Irving was sent to the Dallas Mavericks, that was magnified further.
As for the Phoenix Suns, they are expected to be extremely active ahead of the deadline after missing out on Irving. The struggling team has also been kicking the tires on finding a long-term replacement for Paul. Below, we look at three ideal trade scenarios ahead of Thursday's NBA trade deadline.
Minnesota Timberwolves swap point guards
Timberwolves get: Chris Paul, Landry Shamet
Suns get: D'Angelo Russell, Naz Reid, Wendell Moore Jr., 2 2nd-round picks
Having struggled to a 28-27 start to the season despite the off-season acquisition of Rudy Gobert, Minnesota is looking to change things up ahead of the NBA trade deadline. It's in this that front office head Tim Connelly has starting point guard and impending free agent D'Angelo Russell on the trade block.
While Russell's trade value can't be seen as high right now, packaging him with other assets could land Minnesota a better fit. That's where Paul comes into play. He can calm things down on offense while running the ship better than Russell. He's also a much better ball distributor than Russell, which will help star off-guard Anthony Edwards moving forward.