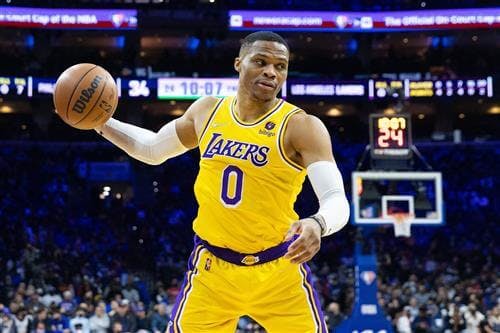 If you've been keeping up, you know that many people expect the Lakers to look to move Russell Westbrook this NBA offseason. It may be easier said than done.
After all, Westbrook's leaguewide perception has taken a hit over recent years. His inability to play alongside LeBron James didn't help his cause.
With one of the league's most expensive contracts, it's possible that the Lakers won't be able to find him a new home at all.
At the same time, crazier things have happened. Where there's a will, there's a way. Whichever cliche about improbable events being possible you prefer, it applies to the Westbrook situation.
Westbrook's contract expires after next season. That's significant. A team looking to clear their books in the near future could be interested in him for that reason.
Who knows? Someone might even be willing to pay him to play basketball. Here are three fresh trade ideas that see Westbrook parting ways with the Lakers.
Los Angeles Lakers Receive: F Robert Covington, F Marcus Morris Jr., G Luke Kennard
LA Clippers Receive: G Russell Westbrook, 2027 First-Round Pick (LAL)
The LA Clippers could use an upgrade at point guard. Whether Russell Westbrook would count as one would be in the eye of the beholder.
Still, it's possible that, with some alterations to the roster, the Clippers could maximize Westbrook. In fairness to the former MVP, we haven't seen him on a team quite like this.
Think about his recent stops. He shared a backcourt with another star guard in both Houston and Washington. In Los Angeles, he struggled to share playmaking duties with James, and to facilitate for a stretch big in a season-long slump in Davis.