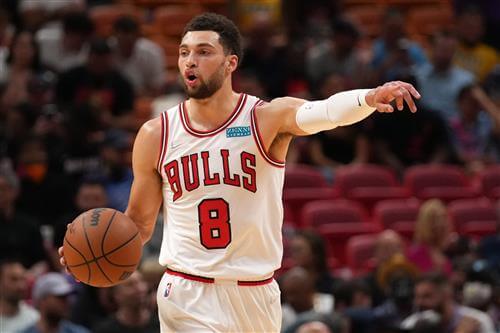 On some level, we'd love to see Zach LaVine stay with the Chicago Bulls. Their 2021-22 NBA season just feels a little incomplete.
They had a solid year, but it was unexceptional. They finished the year 46-36 and got eliminated in the first round of the playoffs.
After all the moves this organization has made over the last two seasons, that feels a little anti-climatic. With some tinkering, it's hard not to wonder if this team could reach higher heights in 2023-24.
Nonetheless, LaVine is a free agent. He could conceivably land anywhere. While only a few teams have the cap space to sign him outright, LaVine could force a sign-and-trade to a location of his preference.
Chances are, that team would be happy to have him.
Here are a few scenarios in that vein that we'd like to see play out.
Chicago Bulls Receive: F John Collins, G Kevin Huerter
Atlanta Hawks Receive: G Zach LaVine
With this deal, the Chicago Bulls fill a position of need with the acquisition of John Collins from the Atlanta Hawks. It's just unfortunate that they're doing so at the expense of Zach LaVine.
Of course, Patrick Williams remains on the Bulls' roster. Still, he's been injury-prone throughout his career. Even if he does get healthy, he and Collins can co-exist in this positionless league. The Bulls instantly get more talented and more versatile in the frontcourt with this deal.