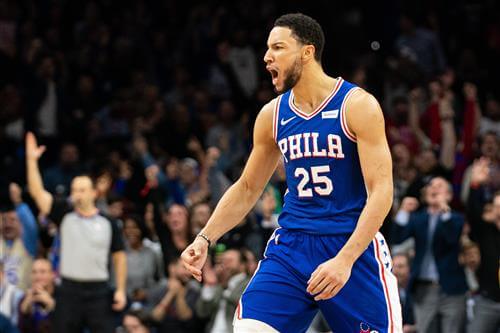 The Philadelphia 76ers continue to discuss trade offers revolving around NBA All-Star Ben Simmons every day. Still, with training camp right around the corner, the 76ers are running out of time to decide on Simmons' future.
There seem to be a handful of teams interested in Simmons right now, and according to ESPN's Brian Windhorst, there are "four to five" teams all making offers for him every single day, including one unnamed team having "a lot of interest" in Simmons.
This should not be a total surprise like the Minnesota Timberwolves, Portland Trail Blazers, Sacramento Kings, Spurs, Cleveland Cavaliers, and Toronto Raptors have all been mentioned as possible landing spots for Ben Simmons over the last few weeks. Still, it is a little surprising to see that the 76ers have not progressed on trade talks at all.
Getting an All-Star in return for Simmons has always been the mentality of the 76ers' front-office, but at this point, they probably are not going to receive this kind of value.
Hardly any All-Star-like talent is on the trade block right now, and both Bradley Beal and Damian Lillard, two guys the Sixers love the idea of adding, are not available via trade, so what will Philadelphia do?
They could look to mend their relationship with Ben Simmons to begin the season, in hopes of trading him around the trade deadline with his value possibly increasing. Still, at the same time, Simmons does not appear to want to remain in Philadelphia and has wanted out for several weeks now.
Everything that has happened for the 76ers this offseason has been a complete mess, but who knows, maybe they will get the offer they want for the two-way star within the coming hours!
We really do not know what to expect from a Ben Simmons trade anymore, so let's mix things up and take a look at three insane trades that may actually make some sense.
Brooklyn Nets Receive: G/F Ben Simmons, F Paul Reed
Philadelphia 76ers Receive: G Kyrie Irving, F Sekou Doumbouya
Now before you say anything, think about it. The Brooklyn Nets are arguably the best team in the league entering the season, but the one downfall to their team right now may be their defense. The 76ers are a "title contender," but they need another high-level All-Star scorer, which is what they would get in Kyrie Irving.
No, this trade is not going to happen, and the Brooklyn Nets have not contacted the Philadelphia 76ers in regards to Ben Simmons, a source close to the 76ers organization has told NBA Analysis Network. Still, this swap of All-Stars really is not terrible for either the Sixers or Nets.
Given his "triple-double" mindset and ability to be one of the best defenders in the league, Ben Simmons would be a great fit in Brooklyn next to Kevin Durant and James Harden. Simmons can take pressure off both stars by being a primary facilitator, and defensively, he would be their anchor that can defend virtually any position on the floor.