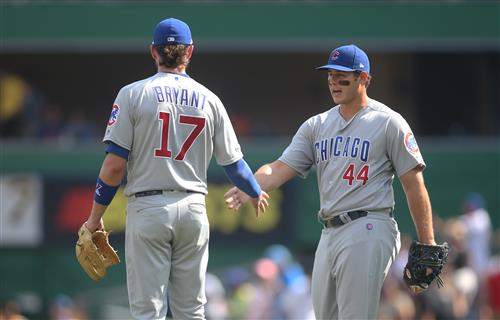 The Chicago Cubs entered the season widely expected to miss the MLB playoffs with the Yu Darvish trade seemingly waving the white flag. A surprising started changed the perception of this team, but the Cubs now look like sellers with the MLB trade deadline approaching.
Things started off great for Chicago. Entering June 14, Chicago boasted a 38-27 record and Kris Bryant looked like an NL MVP candidate. But the wheels have fallen off ever since, evidenced by the team's 4-15 record since that date.
As the Milwaukee Brewers and other NL contenders climb the MLB standings, Chicago slides further down. With iconic players set to hit the open market, it might be time for the Chicago Cubs to consider being sellers by July 30.
Kris Bryant traded to New York Mets
Kris Bryant isn't returning to Chicago next season. He doesn't forget the blatant service time manipulation this organization used against him and there is no chance he offers to sign at a discount rate. The Cubs can either keep him and get a comp pick next year or move him for prospects this month. Jed Hoyer needs to choose the latter.
New York Mets trade: RHP J.T. Ginn (NYM's No. 6 prospect), 3B Mark Vientos (NYM's No. 8 prospect)
Chicago isn't landing a top prospect like Francisco Alvarez or Ronny Mauricio back, even right-handed pitcher Matt Allan might be a stretch. If the New York Mets are unwilling to deal Brett Baty, who is crushing the ball this season, the Cubs could settle for two top-10 prospect outside of the 'core six" in New York's farm system.
Ginn flashed top-20 talent before the 2020 MLB Draft but fell after undergoing Tommy John surgery. He is back on the mound and offers the potential to be a mid-rotation starter. Vientos, who has fallen behind Baty in the system, offers outstanding power potential and could be an impact bat if his hit tool develops.