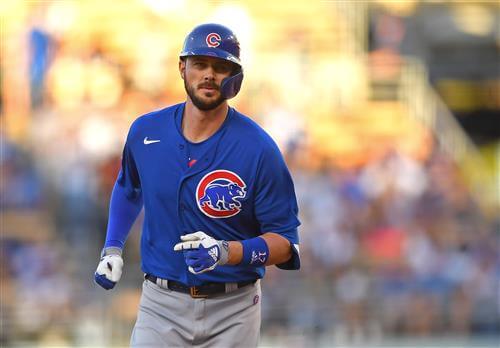 On June 24, the Chicago Cubs combined to throw a no-hitter against the Los Angeles Dodgers in a 4-0 win. The victory put the Cubs 42-33 on the season and had them right in the thick of the NL Central race. Now, Chicago has dropped 12 of their last 13 games and everyone including Kris Bryant, Javy Baez and Anthony Rizzo could potentially be traded.
The Cubs were leaning this way and gave sight to that in the offseason when they traded their ace, Yu Darvish, just to get off his contract. They then opted to non-tender Kyle Schwarber paving the way for his free agency. Now, it's clear the Cubs will be sellers at the MLB Trade Deadline, if they opt to do anything. That could mean trading former MVP Kris Bryant.
Here are the three best trade destinations for Kris Bryant, ranked.
3.) Chicago White Sox
This trade makes sense for every single reason except that it's hard to imagine the Cubs parting with Kris Bryant and sending him to their crosstown rivals.
The White Sox currently hold the largest division lead of any team in MLB, leading the Indians by 7.5 games in the AL Central. But recently, the White Sox have continued to pile up the injuries.
Kris Bryant is as versatile as they come as he can play both corner outfield spots along with third base and first base. The White Sox could use another consistent bat and even though Bryant could be a rental player for them, Chicago (AL) is clearly making a run at winning a World Series this year. They have plenty of talent both in the rotation and in the lineup but could use one more really good bat to push them over the top. Bryant would give them just that.
The only reason the White Sox aren't higher on the list is because, again, it's hard to imagine any scenario where the Cubs would actually trade Kris Bryant to their rivals.