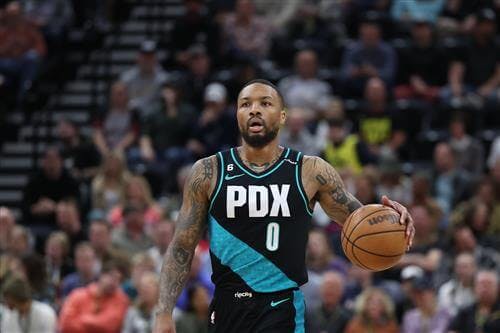 Superstar point guard Damian Lillard is one of the best players in the NBA right now, even without a Finals appearance or an NBA championship on his resume. Lillard made his 7th All-Star Team this season and is posting 32.2 PPG, 4.8 RPG, and 7.3 APG through 58 appearances with the Portland Trail Blazers. The point guard also added a 3-Point Contest title to his resume as he continues to pile on individual awards. At the same time, Damian Lillard has done everything he could to get the Portland Trail Blazers into the playoffs, but even he has to admit that his chance of playing in the postseason is probably over.
Lillard is almost 33 years old and must be realizing that he won't have a chance to win if he stays where he is. He must want to win a championship right now and doesn't want to bask in mediocrity any longer. Despite the point guard's loyalty until now, there has to be widespread fear in Portland that their franchise superstar is unsettled and has major doubts about whether he should remain loyal to his team. It is obvious that Blazers fans are unsure about how Portland can build a title contender in a talented Western Conference. The Trail Blazers have tried to build a contender around Lillard with talents such as CJ McCollum, Jerami Grant, and Jusuf Nurkic, but it hasn't worked out on both ends of the floor. More specifically, Portland struggled to get defensive stops when they needed to and relied too much on Dame to succeed.
Perhaps Lillard is too stubborn for his own good. The point guard has repeatedly made it clear that "ring culture" is not what he believes in and competing in the NBA is about more than championship banners. That is certainly eye-brow raising because how could a top-75 player of all time admit that it does not bother him when seasons go by, and he doesn't want to win? Perhaps this is just loyalty rather than stubbornness, as the point guard has gone out to defend head coach Chauncey Billups amid a disappointing season when there were high hopes of Lillard having help in Anfernee Simons and Jerami Grant. No matter what Lillard says, it could be time to leave as the player is at risk of getting shut down for the season yet again as the team is looking too far away from competing. That simply has to hurt a player of Lillard's superstar offensive excellence.
The only way for Lillard to win a championship right now is to leave the Portland Trail Blazers once and for all. Whether he likes it or not, multiple first-round exits and countless missed playoff seasons do not look good on the player's resume. NBA fans are begging and pleading for Lillard to force a move away for his own sake, and it could be the perfect time to do so. There are three major destinations for the point guard to find postseason success with, and it does not have to mean he creates a completely unfair superteam as Kevin Durant did with Golden State. Here are the three best destinations for Damian Lillard to set his sights on for greener pastures.
A Big Three In Los Angeles
Los Angeles Lakers Receive: Damian Lillard
Portland Trail Blazers Receive: D'Angelo Russell (Sign and Trade), Jarred Vanderbilt, 2019 First-Round Pick
By one of the best chances for Damian Lillard to make the Finals is forming a Big Three with LeBron James and Anthony Davis. Lillard and Anthony Davis could be another version and recreation of Kobe Bryant and Shaquille O'Neal, while LeBron James is still the smartest player in the NBA. That trio makes the Lakers the best team in the West by a large margin, without the likes of a rampant Golden State Warriors side running the conference year after year. More so than in any other season we can remember, the conference is completely wide open even if Kevin Durant is on the Phoenix Suns because he has yet to stay healthy, while Chris Paul's age and Deandre Ayton's motor are very unconvincing.
The Lakers have been title contenders for a few seasons since their 2020 championship run, but a trade for Russell Westbrook and constant injuries to LeBron and Davis have halted their progress. If the Lakers had Lillard on the roster, there is no question the team would have made it to a top-3 seed in the West despite the injuries. At the same time, Los Angeles must realize that, but they must win now with LeBron approaching 39 years old next season, and Davis isn't exactly getting healthier and more motivated by the year.
Damian Lillard can lead the Lakers with Anthony Davis in the future after LeBron's retirement and has the best possible chance to make the NBA Finals next year if Portland makes a trade to bring on board D'Angelo Russell in a sign and trade, Jarred Vanderbilt, and the highly-rated 2029 first-round pick. Los Angeles loses two starters and a valuable pick, but they bring on the best point guard in the NBA right now to form an iconic Big Three. With Lillard on board, Los Angeles can sport a ferocious starting lineup with Dame, Austin Reaves, LeBron James, Rui Hachimura, and Anthony Davis.