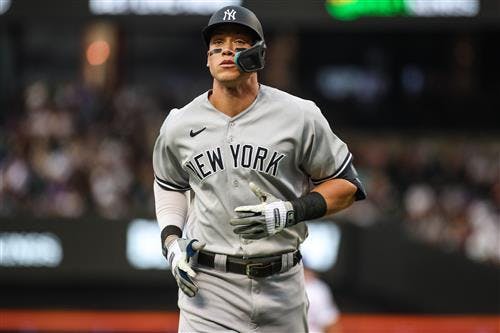 Less than a month remains in baseball's regular season, and with October bound to breeze by as it always does, free agency is nearly upon Major League Baseball.
The 2022-23 class is solid, headlined by a mix of MVP-caliber hitters and elite, wizened pitchers. If you need a difference-making shortstop, there are four. Bullpen help abounds. There are on-base savants, innings-chewing starters, a few catchers and a starter from Japan whose fastball kissed 102 mph this year.
Perhaps this won't match the $3 billion winter of 2021-22, especially because historically the first offseason after a new collective-bargaining agreement sees a pullback in spending, but there are plenty of familiar names who will likely be on the move. To help everyone wrap their heads around the upcoming class, ESPN.com asked five writers to assign every player to a tier. The following are the results of that: four players in Tier 1, eight in Tier 2, 12 in Tier 3, 45 in Tier 4 and 43 in Tier 5.
Tier 1
Aaron Judge, OF: The walk year of walk years. His 57 home runs are 20 clear of next best in the majors. His 123 RBIs are 13 ahead. A Triple Crown isn't out of the question. He has played a passable center field at 6-foot-7, 282 pounds. He has stolen 16 bases. He is everything a team wants, and if the only ding is his age at 30, then that is the most benign of warts. He will get $300 million-plus this winter. Question is, will the New York Yankees be the ones to give it to him?
Jacob deGrom, RHSP: This is what the evolution of pitching has wrought. Someone whose stuff is almost too good to be true. A fastball that sits at 99 mph and touches 102. A slider that whizzes in at 93 and tops out at 96. The curveball and change are great, if sparingly used, too. There is an argument to be made that this version of deGrom, 34, belongs in the pantheon of all-time greats. When he pitches, he is that much better than everyone else. And though concerns about his ability to do so long term persist, deGrom, if he stays healthy through the end of the season, almost assuredly will break Max Scherzer's annual-salary record of $43.3 million.
Nolan Arenado, 3B: Earlier this year, Arenado said he did not plan on opting out of the final five years and $144 million of his contract. Seven-win seasons, of course, do not come around very often -- there were just 43 in the previous decade -- and Arenado's brilliant year, combined with the leverage, warrants at least a renegotiation with St. Louis to prevent him from hitting the open market. Because if he were to, the 31-year-old would stand to do a lot better than five years, $144 million.