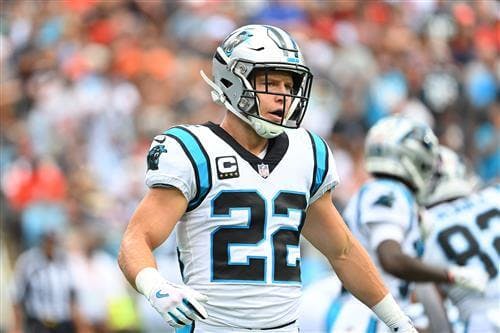 The 2022 NFL season isn't getting any more predictable. While we didn't see a slew of late-game collapses as we did in Week 2, Week 3 brought its fair share of surprises. Trevor Lawrence and the Jacksonville Jaguars routed the Los Angeles Chargers, while the 0-2 Indianapolis Colts stymied the Kansas City Chiefs.
In other words, we're still a long way off from knowing which teams are dominant and which are the bottom-feeders.
The landscape will become more relevant in a matter of weeks as teams look to buy and sell at the rapidly approaching Nov. 1 trade deadline. Remember, it was at last year's deadline when the Denver Broncos dealt star pass-rusher Von Miller to the Los Angeles Rams. And Miller went on to help L.A. win Super Bowl LVI.
We'll likely see at least one notable player traded at the deadline this year, but who will it be? Robert Quinn? Kenny Golladay? There's even been some speculation that Christian McCaffrey will wind up on the trade block before long.
Between now and deadline week, we'll check in weekly on the top potential trade targets based on factors like salary-cap situations, player usage, projected player roles, team performance, roster depth and any relevant trade buzz.
We'll also examine logical landing spots based on factors like team needs, positional value and salary-cap and contract situations.
The Selection Process
To create our top 10 list, we have gathered 15 names that could realistically land on the trade block or become hot trade targets based on the aforementioned criteria.
Notable changes to our initial list involve the New York Giants and their receiving corps. Darius Slayton falls off entirely for a couple of reasons. For one, the Giants restructured Slayton's contract and have little to gain by moving him. Secondly, New York could use the insurance at the position.
Sterling Shepard suffered a knee injury against the Dallas Cowboys on Monday night. According to ESPN's Jordan Raanan, the Giants believe it could be season-ending.
The injury, however, might not preclude New York from dealing another receiver, though. According to NFL Media's Ian Rapoport, the Giants could look to move Golladay, who has seen little playing time in 2022.
We're also adding Las Vegas Raiders tight end Foster Moreau. While Moreau plays a valuable depth role behind Darren Waller, he's set to be a free agent in 2023. Las Vegas is the NFL's only 0-3 team and may look to part with impending free agents if it doesn't turn around its season in a hurry.
Once we established the top 15 players, we ranked them on their talent level, positional value and their likelihood of being dealt. The idea here is to identify players who can provide value and may realistically be available at the deadline.
One notable addition to the honorable mentions list this week is McCaffrey. It feels extremely unlikely that the running back will be traded until/unless the Carolina Panthers decide to blow it up and start anew without head coach Matt Rhule. Despite Sunday's win over the New Orleans Saints, though, that time may come before the deadline.
"Multiple coaching agents I spoke to on the condition of anonymity have the Panthers pegged as the first job to open and are already contemplating which of their clients would be the best fit," Jason La Canfora of the Washington Post wrote last week.
La Canfora also predicted that McCaffrey will be dealt by midseason. Expect the trad chatter to pick up if Rhule's seat becomes any hotter.
This week's honorable mentions, in no particular order, are:
Austin Hooper, TE, Tennessee Titans
Christian McCaffrey, RB, Carolina Panthers
Michael Schofield, G, Chicago Bears
Sam Darnold, QB, Carolina Panthers
Daron Payne, DT, Washington Commanders
10. Foster Moreau, TE, Las Vegas Raiders
Moreau comes in low on our list because Las Vegas is undoubtedly looking to get back into the AFC West mix. If the Raiders continue to struggle, however, he is a prime trade candidate.
Behind Waller, Moreau has carved out a niche as a complementary pass-catcher. He's grabbed three receptions in each of his last two games and finished the 2021 season with 30 catches for 373 yards and three touchdowns.
Moreau could be gone in the offseason, however, and Las Vegas also has free-agent addition Jesper Horsted on the roster.
The Cincinnati Bengals are a team that could use a player like Moreau. They got into the win column in Week 3 against the New York Jets but haven't gotten a huge return from free-agent tight end Hayden Hurst (11 catches, 77 yards).
The Bengals also recently lost tight end Drew Sample, who underwent knee surgery.
The Indianapolis Colts might also want to add to their tight end room. They got their first win of the season Sunday but still lack reliable targets for quarterback Matt Ryan aside from standout wide receiver Michael Pittman Jr.
Kylen Granson leads the Colts tight ends with a mere seven receptions for 43 yards.
Best Fits: Cincinnati Bengals, Indianapolis Colts