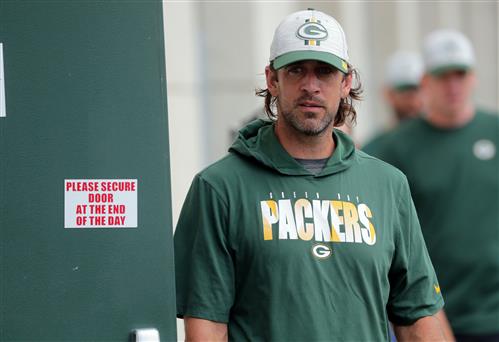 All right, so Aaron Rodgers and Russell Wilson didn't get traded, but Matthew Stafford and Carson Wentz did. This offseason has, by turns, featured quarterback questions in Houston, Chicago, New England, Carolina, New Orleans, Denver, San Francisco ... Pittsburgh -- for a hot second.
But if you think this has been wild, wait until you see the NFL quarterback landscape next offseason.
There's a lot we don't know, obviously. A year ago, if I had told you the Eagles were going to be changing coaches and quarterbacks in the offseason, you'd have looked at me funny. Much can change between now and the end of the season. But from this distance, we can get at least a general idea of which teams will be in the 2022 quarterback market and which quarterbacks they might be pursuing, even if the top prospects in next April's draft are far from locked in.
Let's look into the crystal ball and evaluate all the teams that could change quarterbacks next offseason. Buckle up -- there are 18 teams. We'll do them in alphabetical order:
Atlanta Falcons
Current starter: Matt Ryan
Signed through: 2023
There was some thought around the league that the rebuilding Falcons would move on from the 36-year-old Ryan this offseason, particularly with the team having the No. 4 overall pick in April's draft.
Atlanta did not, and indications are that the organization plans to have him at least two more years. The contract will be a lot easier to escape next offseason, and if the Falcons have a rough-enough year that they have another top-five pick, it could be time to cut the cord.
Most likely outcome: Ryan comes back for 2022. The Falcons could cut him before his $7.5 million roster bonus is due in March, but even then they'd take on a dead-money cap hit in excess of $40 million (though they could move about $15 million of that into 2023 if they designated him a post-June 1 cut).
Long shot: Spencer Rattler, Sam Howell or some other high draft pick. This assumes things go poorly in coach Arthur Smith's first year and the Falcons are in a position to start the reboot at the position.
Carolina Panthers
Current starter: Sam Darnold
Signed through: 2022
Picking up Darnold's $18.858 million fifth-year option for 2022 doesn't guarantee that he will be the Panthers' quarterback next year, even after they traded three picks to the Jets to get him.
Carolina is paying him only about $4.8 million in 2021, so the way the Panthers look at it, that's about $23.6 million over two years. If he flops and the team can go out and get an improvement, they'd treat the option as a sunk cost.
Most likely outcome: Darnold returns.
Long shot: Deshaun Watson, on whom the Panthers had their eye long before the Darnold deal. The 25-year-old Watson asked the Texans to be traded in January, but his status is up in the air as he faces 22 active lawsuits with allegations of sexual assault and inappropriate behavior.