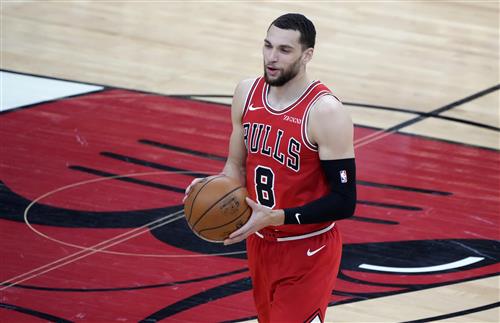 Headlined by James Harden, Bradley Beal and Zach LaVine, the top of the 2022 NBA free-agent class is loaded with elite shooting guards, the types of players who can elevate a team's offense just with their presence.
There are top-notch players from other positions groups, too, however, including – somewhat shockingly – promising 23-year-old center Deandre Ayton after he failed to come to terms on an extension with the Phoenix Suns.
Below, check out our rankings for the top players available for the 2022 NBA free-agent class.
1. James Harden / PG / Brooklyn (Player Option)
A top-tier scorer and passer in the NBA, with a driving ability that's extremely difficult to stop thanks to his strong right shoulder and propensity to draw fouls.
2020/21 stats: 24.6 ppg, 7.9 rpg, 10.8 apg, 1.6 spg, 46.6 FG%, 36.2 3P%
2021/22 earnings: $44,310,840
Career earnings: $227,728,993
Agent: Lorenzo McCloud
2. Bradley Beal / SG / Washington (Player Option)
Has turned into one of the best 2-guards in the league over recent years. An explosive scorer who can throw down dunks in the halfcourt and hit jumpers from all over the place, even those with a high degree of difficulty.
2020/21 stats: 31.3 ppg, 4.7 rpg, 4.4 apg, 48.5 FG%, 34.9 3P%
2021/22 earnings: $34,502,129
Career earnings: $145,823,823
Agent: Mark Bartelstein
3. Zach LaVine / SG / Chicago
One of the most freakish athletes in the league who has developed the rest of his game to match his unreal leaping prowess over recent years. Excellent bucket-getter from three, the midrange and the basket area.
2020/21 stats: 27.4 ppg, 5.0 rpg, 4.9 apg, 50.7 FG%, 41.9 3P%
2021/22 earnings: $19,500,000
Career earnings: $68,147,297
Agent: Rich Paul
4. Deandre Ayton / C / Phoenix (Restricted)
Athletic center with elite rebounding marks but who still has to figure out how to be more consistent on a nightly basis. Even so, made huge strides in that department in helping guide the Suns to last year's Finals. Fantastic finisher near the basket with a solid face-up game from the midrange.
2020/21 stats: 14.4 ppg, 10.5 rpg, 1.4 apg, 62.6 FG%, 20.0 3P%
2021/22 earnings: $12,632,950
Career earnings: $27,756,960
Agent: Bill Duffy
5. Kyrie Irving / PG / Brooklyn (Player Option)
An enigmatic player with questionable decision-making, when he's actually playing basketball, he's one of the best point guards in the league who can score against any level of defender and distribute at a high level.
2020/21 stats: 26.9 ppg, 4.8 rpg, 6.0 apg, 50.6 FG%, 40.2 3P%
2021/22 earnings: $35,053,700
Career earnings: $162,265,892
Agent: –