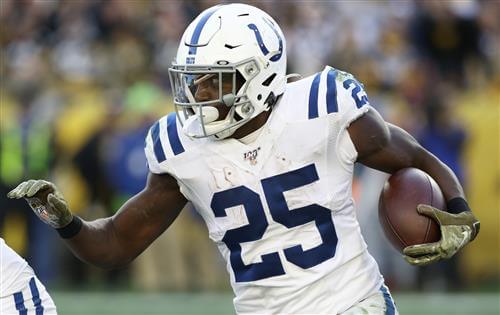 We're now more than a month into the 2021 NFL season, and the great teams are beginning to separate themselves.
The Buffalo Bills, for example, made a statement with their 38-20 win over the Kansas City Chiefs on Sunday night. The Baltimore Ravens did the same with an epic comeback win over the Indianapolis Colts on Monday.
While a few teams are rising to the top, others are struggling to find an identity. As injuries continue to mount around the league—Russell Wilson, Daniel Jones, Clyde Edwards-Helaire and Saquon Barkley headlined Week 5's injury list—soon we're likely to see clearly defined buyers and sellers on the trade market.
And the trade market is moving. The Carolina Panthers traded for cornerbacks CJ Henderson and Stephon Gilmore over the past couple of weeks, and more significant deals are likely on the way.
The market is open until Nov. 2. Each week until then, we'll examine the NFL's top 10 trade targets based on each team's on-field and salary-cap situations, players' roles, any relevant trade buzz and a little common sense.
The Selection Process
To reach our top 10, we've gathered 15 players who are likely to be on the trade block based on prior reports and logic.
Joining the list this week is Houston Texans wideout Brandin Cooks. The 2014 first-round pick continues to shine for a 1-4 Texans team that could be gunning for the top pick in next year's draft. Cooks has already been traded three times in his career, and a fourth move would be anything but surprising.
Cooks will replace Cleveland Browns tight end David Njoku, who finally found a role during Cleveland's latest loss. Njoku caught seven passes for 149 yards and a touchdown.
Also joining the list is Baltimore Ravens running back Ty'Son Williams. According to ESPN's Adam Schefter, the Ravens have "received trade inquiries" about their running backs. Williams, who started the first three weeks of the season, has seen just four carries over the past two weeks—he was inactive in Week 4.
To make room for Williams, we're removing Kansas City Chiefs guard Laurent Duvernay-Tardif. According to Sports Illustrated's Albert Breer, Duvernay-Tardif's name did "come up in talks" before the season. However, Duvernay-Tardif has a no-trade clause in his contract and has yet to play this season after breaking his hand in training camp.
The updated list, in no particular order, is as follows:
N'Keal Harry, WR, New England Patriots
Zach Ertz, TE, Philadelphia Eagles
Odell Beckham Jr., WR, Cleveland Browns
Andre Dillard, OT, Philadelphia Eagles
Cameron Dantzler, CB, Minnesota Vikings
D'Ernest Johnson, RB, Cleveland Browns
Clelin Ferrell, Edge, Las Vegas Raiders
Ty'Son Williams, RB, Baltimore Ravens
James Washington, WR, Pittsburgh Steelers
Michael Thomas, WR, New Orleans Saints
Allen Robinson II, WR, Chicago Bears
Marlon Mack, RB, Indianapolis Colts
Denzel Mims, WR, New York Jets
Trevor Siemian, QB, New Orleans Saints
Nick Foles, QB, Chicago Bears
10. Allen Robinson II, WR, Chicago Bears
We have a fair bit of receiver shuffling this week. Pittsburgh Steelers wideout James Washington falls out of the top 10, as teammate JuJu Smith-Schuster is set to undergo season-ending shoulder surgery. Chicago Bears wideout Allen Robinson II falls significantly following a two-game winning streak that has suddenly made the Bears relevant in the NFC North.
This week's showdown with the Green Bay Packers could put Chicago at the top of the division. If the Bears continue winning, Robinson isn't going anywhere.
However, if Chicago falls to Green Bay and continues losing, moving Robinson would make a lot of sense. Robinson is playing on the franchise tag and may not return in the offseason anyway. He has also fallen behind second-year wideout Darnell Mooney in Chicago's pecking order of top targets.
Mooney leads the Bears with 31 targets and 20 receptions, while Robinson has 17 receptions on 29 targets. Mooney, not Robinson, is likely to be Justin Fields' long-term No. 1 option. Robinson, who had 1,250 receiving yards last season, would be a very attractive short-term rental for a contender, however.
Targeting Robinson could be an ideal win-now move for a team like Cleveland or Indianapolis at the deadline.
A lot is going to hinge on how Chicago fares against the Packers this week and the Tampa Bay Buccaneers in Week 7.
9. N'Keal Harry, WR, New England Patriots
New England Patriots receiver N'Keal Harry is not nearly as proven as Allen Robinson II. However, there's a better chance that he can be had before the trade deadline. At 2-3, New England is quickly falling behind the Buffalo Bills in the AFC East, and it continues to have little use for Harry.
A first-round draft pick in 2019, Harry has become a complete afterthought in New England's offense. He's appeared in each of the last two games but has played less than 35 percent of the offensive snaps in each contest. Harry opened the season on injured reserve with a shoulder injury.
Harry formally requested a trade in the offseason, and with the Patriots continuing to utilize other pass-catchers, they may now be inclined to grant it.
While Harry doesn't bring a lot of proven production to the table—he has just 47 receptions in three years—a team willing to work with a developmental project should be happy to take a flier on him.
The physical upside that made Harry a first-round selection remains in place, and a receiver-needy team like Pittsburgh or Cleveland should be interested in trying to extract that talent.