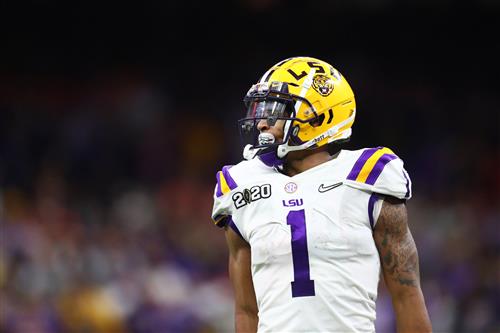 While quarterbacks have been the talk of the 2021 NFL Draft, one can easily conclude that the wide receiver position is just as stacked. Projections conclude that at least four pass-catchers at this position will go in Round 1.
The group is headed by record-breaking former LSU wide receiver Ja'Marr Chase as well as Alabama teammates Devonta Smith and Jaylen Waddle. There's also a good chance that Minnesota's Rashod Bateman will find himself as a first-round pick and an underrated star will slip into the top-32.
Checking on the top-five wide receivers in the 2021 NFL Draft, we look at the best potential fit for each player.
Cincinnati Bengals nab Ja'Marr Chase with fifth pick
Prior to opting out of the 2020 season due to the COVID-19 pandemic, Ja'Marr Chase was seen as one of the best receivers in the entire nation. Catching passes from then-teammate Joe Burrow at LSU, the 6-foot Chase was absolutely dominating in 2019. He caught 84 passes for 1,780 yards with a resounding 20 touchdowns against elite-level SEC defenses.
What better way for Cincinnati to help Burrow grow as a franchise quarterback than to team these two up together once again? It really just makes too much sense at this point. The upside is unlimited. Chase already boasts a pro-ready skillset and could step in immediately as Burrow's No. 1 target ahead of impressive youngster Tee Higgins.
Carolina Panthers surprise with Devonta Smith in 2021 NFL Draft
New Panthers general manager Scott Fitterer is apparently willing to go all in with Sam Darnold after acquiring the struggling former No. 3 pick for three NFL Draft selections. Whether that proves to be foolish moving forward remains to be seen. What we do know is that Darnold needs more weapons on offense to go with running back Christian McCaffrey and stud young receiver D.J. Moore.
The loss of last season's breakout star, Curtis Samuel, also adds to the belief that Carolina will go receiver early in the draft. If Smith were to land on their laps at eight, there's absolutely no reason to believe the Panthers would pass up on the reigning Heisman winner.