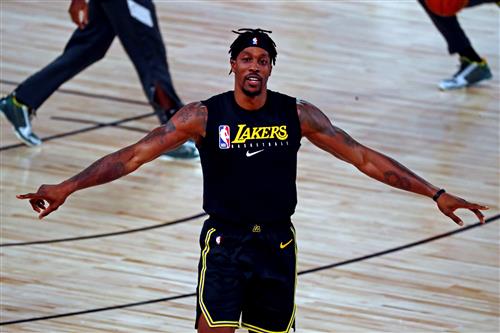 The NBA season has come to an end. We have all got through a difficult season with plenty of distractions, and we crowned an NBA Champion in the Los Angeles Lakers. Looking towards next season, teams are looking to add quality players in the free-agent market to make big moves towards competing in the playoffs. In fact, there is quite a large list of free agents that can be impactful immediately.
By narrowing down the top 15, it is time to power rank the best available free agents in the market. Players such as DeMar DeRozan, Andre Drummond, Gordon Hayward, and Mike Conley among others will likely accept their player options and therefore not be available free agents.
Anthony Davis will probably opt out and sign a two-year deal with the Los Angeles Lakers.
As a result, here are the top 15 free agents in the NBA.
15. Dwight Howard
2019-2020 Statistics: 7.5 PPG, 7.3 RPG, 0.7 APG, 0.4 SPG, 1.1 BPG
What a way to start the list with forgotten big man Dwight Howard. The man was a superstar with Orlando back in the day and had frustrating stops with the Lakers and Rockets before basically falling out of the league. He bounced back this season with the Lakers, making up for whatever amends he needed to make for Lakers Nation after his stint some years ago. Dwight was simply sensational in his role as a backup center or even as a starter, and he has earned himself a contract in the NBA.
Expect the Lakers to bring him back because he has shown he still has the natural defensive instincts and size that helps the team on both ends. If outbid, the Golden State Warriors are in the running for the former franchise center as they look to make big moves to bolster the return of Stephen Curry and Klay Thompson.
14. Paul Millsap
2019-2020 Statistics: 11.6 PPG, 5.7 RPG, 1.6 APG, 0.9 SPG, 0.6 BPG
Paul Millsap is no longer the All-Star forward he was for the Atlanta Hawks, but he still brings experience and veteran leadership to go along with rebounding and defense. Millsap is a crafty scorer who can shoot from deep when needed, and also defend the perimeter at times. He is an intelligent player who can play both in small ball or generic lineups.
Millsap can still be trusted to play 20-25 MPG every game, although he can push up to 30 MPG when needed. His injuries are a concern, so he probably will get a mid-level contract or veteran's minimum if there are no offers.
13. Marc Gasol
2019-2020 Statistics: 7.5 PPG, 6.3 RPG, 3.3 APG, 0.8 SPG, 0.9 BPG
Marc Gasol should not be judged by his low numbers. Gasol has passed the phase of putting up All-Star numbers and being one of the best centers in the NBA. He is older, slower, and offers key attributes that do not appear on the stat sheet. What Gasol brings is a championship level mindset and experience that cannot be taught. He earned it with his play with Toronto and is one of the smartest players in the NBA.
Gasol can pass very well, shoot the three, defend the paint, and play exceptional defense for any team wanting to compete for a title. A team like Houston comes to mind although Toronto would like to keep him for veteran's minimum or mid-level contract.
12. Carmelo Anthony
2019-2020 Statistics: 15.4 PPG, 6.3 RPG, 1.5 APG, 0.8 SPG, 0.5 BPG
Carmelo Anthony has continued who he has always been. A scorer who loves his shots and can be trusted to come through in the clutch. The only difference was that a team finally gave him a chance this year, as the Portland Trail Blazers may have earned Melo a nice contract this offseason.
Melo has been exiled for a long time but bounced back with a new role as the 3rd option on the team. With Damian Lillard and C.J. McCollum carrying the load, Melo had room to be effective on offense and even showed he can spot up for shots when needed. Anthony has played his way back into the league and might find another job next season if Portland don't bring him back.
11. Christian Wood
2019-2020 Statistics: 13.1 PPG, 6.3 RPG, 1.0 APG, 0.5 SPG, 0.9 BPG
Christian Wood might be in the top-5 in this list in terms of his potential. He is developing into not only a starter in the league but quite possibly an All-Star if he continues his improvement. Wood can score the ball very well, inside or from the three. He has shown he can be explosive and he is often quicker than many of the bigs in the league. Wood's arrival in Detroit this season may have played a factor in shipping Andre Drummond out, who earns All-Star votes every year.
Wood will be chased by a lot of teams this offseason, but he will most likely receive a nice offer from Detroit in which he might not be able to refuse. Especially if Wood continues his improvement as a player, his value will only keep growing.
10. Goran Dragic
2019-2020 Statistics: 16.2 PPG, 3.2 RPG 5.1 APG, 0.7 SPG, 0.2 BPG
Goran Dragic played like an All-Star this season. Especially in the postseason, he might have been the most impactful offensive player. He is very clever with his playmaking, and he is a very capable scorer at the rim or from three. Dragic has always been an above-average player, but this season he proves he can still do it at a high level. Even as he ages, he brings veteran leadership and excellent skills to any team.
The only problem with Dragic is his injury history and age because he might not always recover from injuries as we saw in this year's Finals. It will be strange if Miami doesn't try to re-sign him because he has a lot left in the tank if he can keep healthy.