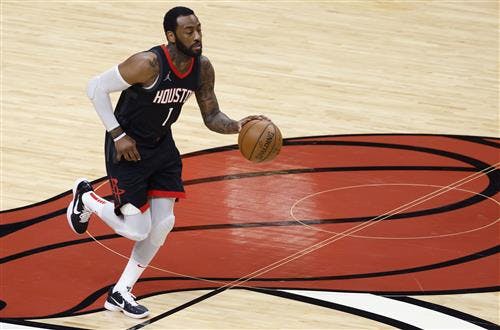 The Orlando Magic, it would seem, don't make a habit of selecting for fit in the NBA Draft. Otherwise, they wouldn't have ended up with three quality young point guards on their roster.
Cole Anthony, Jalen Suggs, and Markelle Fultz have all had varying degrees of success in their NBA careers thus far. They're also each on the right side of 25 with plenty of upside. Could they use a mentor?
If the Magic's front office thinks so, John Wall could be a quality target for this team. As it stands, mentorship is the entirety of his role with the Houston Rockets. He didn't suit up for them once in 2021-22.
He may see the floor in Orlando. This team could use a stabilizing force on the offensive end to allow their young players to operate in a more structured environment.
Of course, the Magic could have another motivation in trading for him. If the Rockets want anything of substance in return for the veteran, they'll have to attach sweeteners.
Here are two trade packages that find Wall on the Orlando Magic.
Houston Rockets Receive: C Mo Bamba, F Jonathan Isaac, G Terrance Ross
Orlando Magic Receive: G John Wall, 2023 First-Round Pick (MIL), 2024 First-Round Pick (BKN)
Jonathan Isaac's career has been a source of frustration for fans to date. When he's available, he's a one-man defensive system, capable of shutting down the perimeter and interior in equal measures.
Related: he's almost never available.