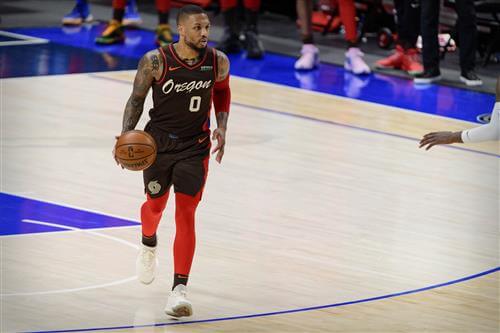 NBA superstar Damian Lillard seems committed to the Portland Trail Blazers for better or for worse. He might not want to "run from the grind", but unfortunately, it's likely to catch up to him anyway.
As currently constructed, the Blazers aren't nearly a contender to win an NBA championship. They might be lucky to make the playoffs.
The team shipped off a number of veterans at this year's trade deadline in exchange for young players and draft capital.
Apparently, the plan is to flip those assets for different, better-fitting veterans. It could work out. The Blazers will be targeting every good player on a rebuilding team in their bid to round out another contending roster.
In other words, they won't be trading Damian Lillard. That doesn't mean they shouldn't. There's a very real case to be made that this team has hit a ceiling under his leadership, and would be better served to destroy and rebuild.
In case their front office has a change of heart, here are two trade packages that send Dame to the Milwaukee Bucks.
Portland Trail Blazers Receive: G Jrue Holiday, F Jordan Nwora, 2022 First-Round Pick (MIL), 2028 First-Round Pick (MIL)
Milwaukee Bucks Receive: G Damian Lillard
This is probably not the first trade most Portland Trail Blazers fans would hope to see. It may appeal to the organization.
After all, the Blazers are often opposed to a full-scale rebuild as a small market team. Acquiring Holiday allows them to at least attempt to stay competitive.