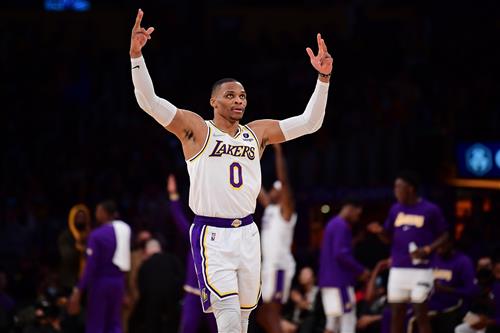 All things considered, the Minnesota Timberwolves had a solid 2021-22 NBA season. On the other hand, if good is the enemy of great, then greatness and the Timberwolves are on bad terms.
The Wolves won 46 games. They lost in the first round of the playoffs to a decidedly stronger Memphis Grizzlies squad. Their fans were ultimately feeling fine, but wanting more.
Most observers probably expect them to tinker. They don't need to make any radical moves. A better shooter at the 4 or some more bench depth could be enough to get them over the hump.
On the other hand, what if they got crazy?
Acquiring Russell Westbrook would certainly qualify. In spite of his shoddy 2021-22 season, there are benefits in making a deal for him. He's an expiring contract, and he may be better maximized in a different situation.
Here are two bold trades that land him on the Minnesota Timberwolves.
Los Angeles Lakers Receive: G D'Angelo Russell, F Josh Okogie
Minnesota Timberwolves Receive: G Russell Westbrook, 2027 First-Round Pick (LAL)
Before Minnesota Timberwolves fans grab their pitchforks, let's elaborate on those benefits associated with landing Russell Westbrook.
Again, his contract is due to expire at the end of this season. This deal may not improve the Wolves in the short term, but it could also set them up for bigger roster moves in 2023-24. At the same time, is it impossible that it could benefit them in the short term?
After making this trade, the Wolves would likely run a starting backcourt of Patrick Beverley and Malik Beasley. That's a talent downgrade in Russell's absence. It could be a fit upgrade.