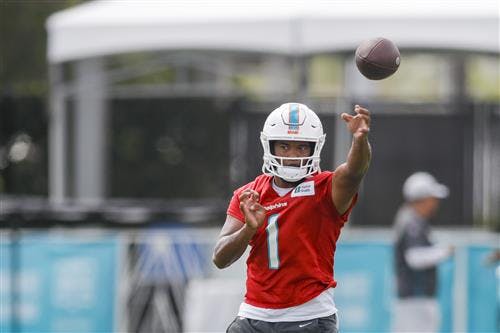 The 2022 offseason was a great one for big-name quarterback movement. Russell Wilson to Denver. Deshaun Watson to Cleveland. Carson Wentz to Washington. Matt Ryan to Indy. Tom Brady to retirement and back. Aaron Rodgers to ... well, nowhere, as it turns out, but that was its own fun drama for a while.
It has left us wanting more.
So while we're excited to get this NFL season started, we can't help looking beyond it just a little and wondering what the 2023 offseason might offer in terms of quarterback movement. Who will be the disappointments shipped out before their contracts start looking bad? Who will be the big-name vets who want to play elsewhere? Who will be in line for the big extensions and become restless if they don't get them?
We did this last year -- looking at teams with unsettled QB situations and what might happen -- and we hit on a few of them. So we're doing it again. This is a list of teams whose quarterback situations beyond 2022 (if not sooner) are murky for one reason or another along with some predictions on what might happen.
Enjoy. There are more than you'd think.
Atlanta Falcons
Current starter: Marcus Mariota, probably
Signed through: 2023
The Falcons are among the teams that missed out on Deshaun Watson, so they pivoted to Mariota and drafted Cincinnati's Desmond Ridder in the third round. Kind of the same vet/rookie hedge the Pittsburgh Steelers (who we'll cover below) are pulling. There's no guaranteed money in Mariota's deal beyond 2022, so all options will be open in Atlanta -- where there's a chance the Falcons could have a high draft pick.
Most likely outcome: C.J. Stroud (Ohio State) or Bryce Young (Alabama). Yeah, they like Ridder. But if the Falcons are picking first or second in the draft, could they really pass on one of these guys just to give last year's third-round pick a chance?
Long shot: Ridder takes the job from Mariota during the 2022 season, the Falcons do better than we expect and they keep him as the starter next year, a la Jalen Hurts in Philly.
Baltimore Ravens
Current starter: Lamar Jackson
Signed through: 2022
Jackson is a former league MVP and unquestioned center of the Ravens' universe. There is no good reason the Ravens should be on this list. However, you'll note above that he is signed only through 2022. This is the second straight offseason in which Baltimore hoped to have Jackson signed to a contract extension but has (so far) been unable to get it done. Who knows? By the time you read this, he could have that extension and this could be irrelevant. But at the time of this writing, he does not, so we have to include the Ravens.
Most likely outcome: Jackson, by far. Seriously, the most likely outcome is an extension for Jackson before the start of the 2022 season. But if one doesn't get done, the Ravens can (and surely will) franchise him for 2023 while they continue to work on an extension. It's very difficult to imagine a scenario in which Jackson is not the Ravens' starting quarterback in 2023, unless this season is a complete disaster in every way for him and the team.
Long shot: C.J. Stroud. If the Ravens are moving on from Jackson next offseason, odds are they've had a horrendous 2022 season and have a high draft pick.