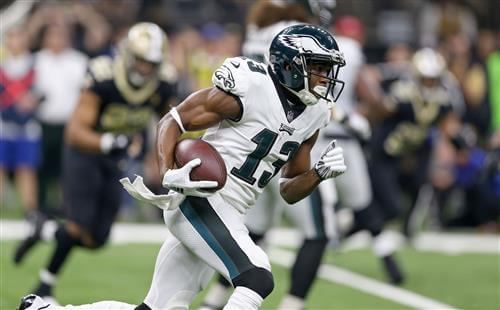 The 2019 NFL draft now complete, the roster-building process for the league's 32 teams is basically complete heading into next season.
Sure, clubs will tinker — prominent free agents like Ndamukong Suh, Eric Berry, Michael Crabtree and Ziggy Ansah remain unsigned. But even with the writing on the wall for veterans like the Giants' Eli Manning, Broncos' Joe Flacco and Bengals' Andy Dalton — each of their teams just selected a quarterback — their starting jobs appear safe for Week 1, at minimum, and probably all year.
However other established players could find themselves on the move. For example, with first-round ILB Devin Bush in the fold, the Steelers cut Jon Bostic, who started 14 games last season, after the draft ended Saturday evening.
Here are a few others whose jobs suddenly look tenuous given the rookies headed in their direction:
Eagles WR Nelson Agholor: For a guy who's never topped 800 receiving yards in a season, the $9.4 million on his fifth-year option might be more cheddar than Philly wants to swallow — especially with second-round WR J.J. Arcega-Whiteside entering the mix alongside veterans Alshon Jeffery and DeSean Jackson.
Patriots P Ryan Allen: One of the unsung heroes of Super Bowl LIII, it appears that will be his final game for New England. Bill Belichick didn't spend a fifth-rounder on Stanford's Jacob Bailey with the intent of keeping two punters — especially since only $100,000 of Allen's $1.5 million salary for 2019 is guaranteed.
Dolphins QB Ryan Fitzpatrick: Hope you had plenty of cake during your honeymoon as Miami's starter given the new coaching staff has every incentive to take a long look at newly acquired Josh Rosen in order to determine how he fits into this franchise's future. Fitzpatrick could be an instant trade asset if another team's quarterback goes down in the months ahead.
Chiefs WR Tyreek Hill: There's no performance issue here, Hill garnering Pro Bowl honors in all three of his NFL seasons and named an all-pro receiver for the first time in 2018. But after the Johnson County (Kan.) District Attorney's office reopened an investigation into whether he abused his 3-year-old son — four years after Hill pleaded guilty to domestic assault and battery of his current fiancée — it appears increasingly likely he won't be a member of this team. How else to explain Kansas City's decision to spend its first pick (56th overall) on WR Mecole Hardman, whose game is similar to Hill's even if the talent level isn't the same, despite the club's defensive issues and fact WR Sammy Watkins signed a three-year, $48 million contract just last year?